Tertiary Institutions' workers should bear with us for the time being- Osun Govt.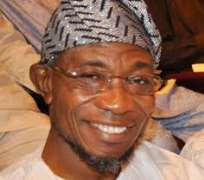 The Government of Osun State under the leadership of Ogbeni Rauf Aregbesola, has urged the Coalition of Academic Staff Union of Polytechnics and Colleges of Education in the state Tertiary institutions to reason with the state government and handle the current financial situation with care and understanding.
In a release signed by the Commissioner for Information and Technology Strategy, Hon. Adelani Baderinwa said like other workers in the state civil service, the government appreciated and commended the workers in the tertiary institutions for their sacrifices in the financial turbulence that nearly crippled the state finances.
According to the release, "It is doubtless that the present administration is very committed to welfare of the workers in the state and it has demonstrated it with series of welfare packages for the workers. The government wishes to state that the payment of modulated salary is heart- aching and saddening as recently stated by Governor Rauf Aregbesola.
"Not until the effect of the immediate past Federal Government of the Peoples Democratic Party (PDP) induced economic recession began to take its tolls on the state, the Aregbesola's administration never wished for any workers not to enjoy his or her full salary and other entitlement.
"We recalled that it is the current administration of Governor Rauf Aregbesola that implemented the CONTISS salary structure for the academic staff in the state owned tertiary institution and it has increased the subventions to the institution.
"We appeal to the workers in the state tertiary institutions to please bear with the government for the time being. The trying time is getting over gradually."