How God Used Policemen To Rescue Me From Gani Adams' Killer Squad-OPC National PRO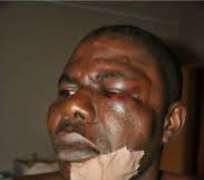 The National Public Relations Officer of Oodua Peoples Congress (OPC New Era), Comrade Adeshina Akinpelu has recounted how he escaped alleged assassination attempt on his life by those he referred to as Gani Adams' killer squad.
Akinpelu who narrated how God used policemen to rescue him at a thanksgiving prayer organised by his family and friends to mark the second month, he narrowly escaped death at Yoruba Summit in Ibadan, said he would continue to thank God who used policemen from Mokola division to save his life.
"Today, marks the second month that God saved me from assassination attempt by Gani Adams' killer squad led by Sunday Babalola and Tope Terror. I would have been dead by now if not for God who used the DPO from Mokola division and his men to rescue me."
Speaking further on Gani Adams who has been pronounced the 15th Aare Ona Kakanfo; he urged Alaafin of Oyo to look into the antecedents of Gani Adams before his final coronation comes up.
"Alaafin of Oyo is my father and that is why I'm using this medium to call on him to look into what will be the consequences of making a Hausa/Fulani mole, a traitor and a villain an Aare Ona Kakanfo of Yorubaland. I have on good authority that a Hausa/Fulani politician funded Adams' Aare Ona Kakanfo title. History has told us what led to the collapse of first and second Oyo kingdoms, before this present Oyo."
Akinpelu added: "Gani Adams has a foible of biting the fingers that had at one time or the order fed him. To mention just few, Senator Bola Ahmed Tinubu, Senator Ogunwale and Pastor T.B Joshua are living witnesses to Gani Adams ungrateful nature."
While thanking God, family members and friends who organised the thanksgiving prayer; Akinpelu expressed appreciation to all security agencies in Oyo state, the police headquarter, Abuja, DPO Mokola and his men who rescued him.
He also thanked members of OPC New Era, OPC Reformed, Dr Fredrick Faseun, all media houses in Nigeria and in the Diaspora and some members of Adams' faction of the OPC who also stood by him.
"I want to say thank you to the families of late Chief Michael Ajasin, Justice Adewale Thompson, late Chief Bola Ige, Apapo Egbe Omo Oodua both home and in the Diaspora for standing by me during this period."
"I will like to use this opportunity to tell some Yoruba leaders who sided with Gani Adams that I still have profound respect for them irrespective of their bias towards making Oodua Peoples Congress one. I want to remind them of the Yoruba proverb that says 'Pasan tafi na iyale nbe laja fun iyawo', meaning that the 'Cane we used to beat the first wife; is still being kept for the new wife.' Posterity will judge them accordingly.