Osun Govt. warns against open defecation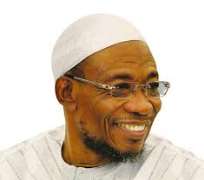 The Osun Government has warned against open defecation in the rural communities, saying such habit was unhealthy for the people.
The Director of Sanitation and Hygiene, State Rural Water as Environmental Sanitation and Hygiene (RUWESA) , Mr Segun Moyinoluwa, gave the warning at a one-day interactive meeting with members of State Task Group on Sanitation on Monday in Osogbo.
Moyinoluwa said the state had embarked on aggressive campaign and enlightenment to educate rural communities on healthy living , adding that effective sanitation was key to improved standard of living.
He said the agency was working assiduously to ensure that rural communities in the state were free of open defecation.
Moyinoluwa called on community leaders to support the agency in its quest to make the state free of diseases and become the most safe state to live in the country.
He said the present administration in the state was keen to improve living standard of its citizens and position the state for economic development.
Moyinoluwa urged the people to always include toilet facilities while building houses and offices to avoid indiscriminate defecation in public places.
He added that the task group on sanitation would visit 109 communities in Ayedaade, Odo-Otin and Ifedayo Local Governments in the state between Nov. 7 to 9 to certified their open defecation status.
Presenting a paper titled criteria for community certification, the head of sanitation unit, RUWESA, Mr Samuel Ayantola , said the agency had succeeded in triggering over one hundred communities in the state to ensure their free from open defecation.
Ayantola who highlighted criteria to certify community to be open defecation free called on sanitation group to check all important facilities in the community to ascertain the status of the area.
He called on the stakeholder in the sanitation sector to be more alive to their responsibility ,saying the task of making the state free from open defecation was Collective efforts.