Deplorable State Of Ogwashi Ukwu Roads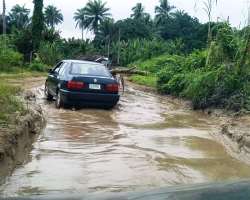 It is pathetic to note that in this twenty first millenium and after fifty seven years of independence, and eighteen years of the Peoples Democratic Party leadership in Delta State and Aniocha South Local Govt Area we cannot boast of good and motorable roads.
We therefore want to draw the attention of the dilapidated roads and their resultant effects on the socio economic life of our people,with a view to finding lasting solutions to them.
Without mincing words the roads are terribly bad.They are guttered with erosions which has created a lot of potholes all over the town.The most hit parts of the town are OgbeUmuokwuni OgbeUbu ,St.Roses,Hausa Quarters,Hightcourt Ubulu Unor,Magistrate court,Agidiehe,Azungwu,St.Patricks Catholic Church roads to mention
but a few. These areas have been cut of completely from other parts of the town by gully erosion. The gully has even dug some mini dams in some areas and therefore making things worse fotr pedestrians. Apart from heavy rains and erosion,the past administrations did not also help the situation.They turned blind eyes to these eyesaw problems and deaf hears to the yearnings of the taxpayers. Emissaries were sent and numerous letters w written but all to no avail.
We the members of the All Progressives Congress Ogwashi Ukwu decided to come in ,this time around to speak truth about the plight of our people.
In this regard,let us tip in some consequences of the poor roads.The bad roads have damaged most of the taxi cabs that ply them.Many of them are grounded as a result of one mechanical fault or the other.Motor spare parts sell like hot cake.They are also very expensive.Motorists are compelled by the havoc to change their parts almost on a daily basis or weekly basis.Unless the Delta State Government does something positive about these roads,we doubtcountless queries can change the situation.Should we continue to fold our arms and watch?
For how long do we put hands on deck ? It is therefore our fervent belief that the Ifeanyi Okowa admnistration will make history by over hauling our transportation system and rehabilitating the existing death traps called roads.
Feyisetan Akeeb Kareem, is a Youth,Political and Developmental Rights Activist Coordinator, Buhari Friends Organisation Network Ogwashi Ukwu and Member of All Progressives Congress Ogwashi Ukwu Delta State.
Disclaimer:

"The views expressed on this site are those of the contributors or columnists, and do not necessarily reflect TheNigerianVoice's position. TheNigerianVoice will not be responsible or liable for any inaccurate or incorrect statements in the contributions or columns here."