Ikeja Electric Refutes Power Blackout Report
…says maintenance work is only on Maryland Injection Substation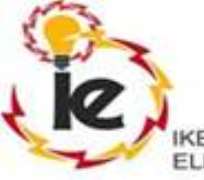 Lagos, Nigeria: November 1, 2017: Contrary to ongoing uninformed reports by Premium Times and some other online media, that Lagos will experience power blackout for one week, Ikeja Electric has maintained that rehabilitation of Maryland Injection Substation will only partially affect power supply to Mende, Anthony, Maryland, Ikeja GRA, parts of Ojota, Ketu and Ikosi.
The rehabilitation work ,which will involve the replacement of obsolete Switch Gear Panels at the Switch room, will take place between 3rd and 10th November, 2017.
Speaking on the development, the Company's Head of Corporate Communications advised online media who are seeking relevance to always crosscheck their facts from informed sources and desist from misleading readers by sensationalizing headlines.
Ofulue solicited the understanding and cooperation of all customers that will be affected by the power interruption, as all arrangements to ensure the completion of the rehabilitation at the stipulated time have been put in place.
He assured that regular updates will be made available through various channels of communications especially with the CDC, CDA Chairmen and other stakeholders. Also on IE website www.ikejaelectric.com as the project progresses. Customers can also call IE customer care lines 01-7000250, 01-4483900 and 0700-0-2255-453 for more information.