BANKOLE RESHUFFLES HOUSE COMMITTEES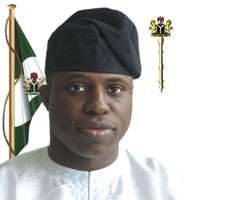 Speaker of the House of Representatives Dimeji Bankole
Speaker of the House of Representatives Dimeji Bankole announced some changes to the leadership of the 84 standing and special committees of the lower legislative chamber yesterday.
T
hose affected by the changes are Chairman of Committee on Inter and Intra party Relations Rep Gbenga Oduwaiye (PDP Ogun), Vice Chairman, Committee on Niger Delta Rep. Gbenga Onigbogi (PDP), Vice Chairman House Committee on Housing and Habitat Rep Kayode Amusan (PDP, Ogun) and Vice Chairman, House Committee on Anti Corruption Rep. Asita Honourable (PDP, Rivers).
Beneficiaries of the changes include Rep Patrick Ikharile (PDP, Edo) who was elevated to Chairman, House Committee on Power; Rep. Onyema Ogochukwu (PDP, Abia) now head Committee on Works while Rep. Khadija Bukar Abba Ibrahim (ANPP, Yobe) is to chair the committee on Privatisation.
Others are Rep. Sa'ad Tahir (PDP, Adamawa) who chairs Committee on Army, while former Chairman, House Committee on Customs and Excise Rep. Yakubu Dogara (PDP, Bauchi) was redeployed to chair the House Services Committee. Rep. Ahmed Aliyu Wadada has been moved from the Capital Market Committee to Information as Chairman.
Rep. Chinedu Eluemunoh (PDP, Anambra) has been appointed Chairman of Committee on Co-operation and Integration in Africa, Rep. Mohammed Almakura (PDP, Nasarawa) heads Committee on Housing and Urban Development, while Reps. Umar Buba Jibrin and Rufus Omeire are to serve as Chairmen of Capital Market and Inter and Intra party Committees respectively and Rep. Abdullahi Umar Faruk (PDP, Kebbi) is now the chairman House Committee on Customs and Excise. Speaker Bankole also hinted that more changes are underway when he said, 'All other Chairmen and Deputy Chairmen of Committees that are not announced will be announced soonest.'
Rep. Eseme Eyiboh (PDP, Akwa Ibom) told Daily Trust that the changes were made because the leadership noticed lopsidedness in committee composition contrary to federal character, non-performance by some committees and need assessment.