Message To Our Generals.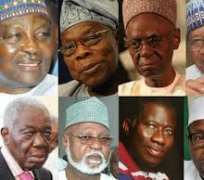 Today, God has given us the grace to talk to our Leaders both past and present. We have to be grateful to God for preserving your life till now, because God still has a purpose for your life. The Bible says "But seek ye first the kingdom of God, and His righteousness, and all these things shall be added unto you ". Matthew 6:33.
God has helped you to rule this great nation and has preserved your life till now. Sir Tarfawa Balewa, Gen. Aguyi Ironsi, Gen. Murtala Muhammed Gen. Abaca and Alhaji Yar Adua would have loved to see today and hear this message, but they didn't have the grace. That is why you must pay attention and listen to the word of God.
In the Book of Luke 19:1-10, we read about the story of Zacchaeus who was a chief among the tax collectors and he was rich. He made his money through dubious means. He collected more than what he supposed to collect, but when he saw the Lord Jesus Christ, he said " Behold, Lord, the half of my goods I give to the poor ; if I have taken anything from any man by false accusation. I restore him four-fold. And Jesus said unto him, this day is salvation come to this house.
Now to the GENERALS.
GENERAL YAKUBU GOWON
His Excellency, I know you very well. You are a lover of sports and lover of children. When you clocked 40, the Nigerian Observer brought wonderful pictures of you on its publication of Saturday, 19th October, 1974. The one you took with the Green Eagles of old, the little children, the one with Queen Elizabeth etc ; I still have a copy with me. You were and still a worthy leader. When you were in government you were not corrupt, only those whom you appointed corrupted your government. Do you still remember " If you Tarka me, I will Daboh you?" It was part part of what destroyed your government ; though your advisers also misled you which you declared yourself at that time. But the last straw that broke your camel's back was your broadcast in 1974, when you declared that 1976 handing over to the civilian government was unrealistic. Even the Udoji award did not save the situation. That made General Murtala Muhammed and General Olusegun Obasanjo to take over the government from you in 1975. I quite remember, when your government was toppled and you were admitted at Warwick University as a fresh student, you had to queue and have your food doled out to you like a child in the kindergarten. I quite remember you could not even build a house yourself throughout the time you were in government ; if not but recently that your towns people and other well wishers came to your aid to get you a building to yourself. I know since you left the government you have been doing the work of God, and as a leader of Nigeria Prays, moving from one state to another in the Federation, praying for the nation. I quite remember when General Abacha wanted to prevent you from carrying out your evangelical assignment with all humility you took the trouble to explain things to him. Yet, His Excellency, I still enjoin you to examine yourself if there is any area you need to make restitution. Try and make it immediately.
His Excellency, it's unfortunate in your very eyes and that of Lt General Theophilus Danjuma Middle Belt is being destroyed by Fulani herdsmen. Plateau State in those days happened to be a place everybody both far and near including Europeans love to reside because of the climatic condition there and the peaceful nature of the place has now been turned into a den of robbers by the herdsmen. You need to stand up and talk to the present government to stop this wanton destruction of lives and property in the Middle Belt. Whosoever is in government today was under you before. Where were they when you were the Head of State and Commander in Chief of the Armed Forces. You remember what Mordecai told Queen Esther concerning the deliverance of the Jews from Haman, if you and Lt General Theophilus Danjuma fail to rise up to fight this atrocities, God will not be happy and He will bring someone else to deliver His people from the evil herdsmen.
GENERAL OLUSEGUN OBASANJO
His Excellency, do you remember you and General Murtala Muhammed took over from General Yakubu Gowon. Do you also remember that when Bukar Dimka tried to take over the government that led to the demise of General Murtala you were the one the mantle fell upon. I quite remember your address to the nation on the occasion of the 18th Independence Anniversary on 1st October, 1978 you said inter alia, " Fellow countrymen and women, at its inception, this administration defined certain objectives within a given time limits for our society and economy and set a course for the nation in domestic and external relations. It will be for history to determine what impact these objectives and this direction have had on the nation. It is, however, proper that those of us charged with the responsibility for achieving these objectives and for guiding this direction should on occasion like this take stock for ourselves and for the nation. In this regard, the present administration has striven in the past twelve months to maintain the pace of development, set a high standard for individual, corporate and communal behaviour and create the basis for building a nation in which a high quality of life, shelter, education and health will be guaranteed to the majority of our citizens. We note with a degree of satisfaction the decline in unnecessary flaunting of material wealth, the disfavour rendered by ostentation and a new readiness to pour scorn on ill-gotten wealth, we have cause to feel that tardiness and indolence in the course of public service are now acknowledged vices deserving of summary punishment. As we embark on yet another year of nation-building, it is my hope and prayer that those values which make a nation great will be further inculcated and ingrained visibly in our interactions with one another. For our part, and in the time available to us, we shall continue to consolidate the gains of this period in the hope that our successors can and will uphold that which is in the best interest of this nation. Let us not at this final phase of our revolution away from military rule commit any act which posterity will hold us to blame. Let us resolve to make the rest of the journey smooth, uneventful and dignified." That was part of the speech.
You successfully handed over the government to a civilian government, but you later came back as a two -term civilian President of this nation.
During your civilian administration, despite that there were some deadwood, you could still boast of the best hands. You had Dr.Okonjo Iweala, Mr Ribadu, Dr. Dora Akunyili, Prof Soludo, among others. These set of hands brought sanity into your government. It is also on record that, it was during your time that Nigeria was able to pay the huge debts hanging on her neck, but we also knew that some of those you appointed into your cabinet were not faithful but corrupt ; you tried to get rid of them through the EFCC chaired by Ribadu, but you could not finish the job. But then again I want you to examine your life. Your speech in 1978 as a military ruler which I quoted above did not reflect your governance. You did not execute everything to the letter. Especially the aspect of ostentation, ill-gotten wealth, tardiness, indolence in public service, has now reached its peak. I will like you to examine yourself, Is there any public money that found its way into your pocket both as a Military Head of State and two -term Civilian President of this nation ; please declare and restitute your way now.
ALHAJI SHEHU SHAGARI
His Excellency, It was you General Obasanjo handed over the government to as a Civilian President. It is noted that your government was one of the most corrupt, because it was during your time that your NPN chieftains received payment for contract jobs not executed, all in the name of party. You quite remember how contracts to build Abuja was astronomically inflated, the jobs not fully executed, yet paid for, including the River Basin Contracts and other projects. It was when the corruption reached its peak that brought General Buhari and General Idiagbon to the scene. Thank God, God has spared your life till today. I want you to examine your life. Is there any public money that you are holding on to, or do you know any of your men who stole public money ; make restitution now. Let all these money be given back to the nation, there you will have peace.
GENERAL IBRAHIM BABANGIDA
His Excellency, when you took over from General Buhari, I was among those God gave a revelation concerning your government, which I wrote you then. The Lord said at that time that you would not die on the throne and quoted Isaiah 54:17. The Lord backed His word and despite the gravity of Orkar coup, Lord delivered you. You may think it was by your might or power or any other means, No; it was God who honoured His word.
At the early stages of your administration, you were torn between taking IMF loan or not to take it. This is what The Punch Newspaper wrote as the front page comment on Thursday December 12, 1985 " DON'T TAKE THE IMF LOAN " it said " Perhaps, the Babangida Administration need not have declared that the decision of whether or not the Government should take the IMF loan rests with the Nigerian people. That it voluntarily did so, has been appreciated and Nigerians have reciprocated by the way and manner they manifested their support of the regime so far. But the conditionalities for their continued support are as difficult as those of the IMF. The principal one is that the President should be true to his words ie.to respect the wishes and interest of the generality of Nigerians as defined by them in deciding whether to take the loan or not... By an overwhelming majority, Nigerians have declared their stand. They say in one massive and thunderous voice "NO TO IMF".
I remember sending a personal letter to you on the issue that you should not take the loan. But despite all the drawbacks associated with the loan, you went ahead to take it. And that was the genesis of Nigeria's economic woes. You started well, but you eventually wanted to elongated your time beyond the time God gave you to govern, and you really know what happened, leading to emergency transfer of leadership to Chief Shonekan.
God has spared your life till now. The question is, Is there any public money you have taken for private use and you are holding on to? Declare and make a restitution now before it is too late. Return everything now.
CHIEF ERNEST SHONEKAN
His Excellency, you were forced to take the seat at Aso Rock on temporary basis. When you were put there I wrote a letter to you, that if you spent more than three months on the throne you would be disgraced out of office. The rest is now history. As a matter of fact, your few period there saved the nation from disintegration. You had your money before you came in as the President of this nation. Now sir, I want you to examine yourself ; if you took any public money to enrich yourself, declare it now and make a restitution before it is too late.
GENERAL ABDUSALAMI ABUBAKAR
It was by God's grace that you got to the presidency to become the Head of State of this nation. Like your progenitor, General Olusegun Obasanjo, you also handed over successfully to a democratically elected government. You did not spend much time, but did you not enrich yourself at the expense of the public? Examine yourself make a restitution. Return any public money you have with you now before it is too late.
DR. GOODLUCK JONATHAN
Thank God you happened to be the most educated President we have had in this nation. Note that Dr. Nnamdi Azikwe was only a Ceremonial President. You should also thank God for making your dream a reality. You were made the president of this nation by God's grace.
His Excellency, you will agree with me that Nigerians did not find it easy in your time as the President of this nation. You were not bad but the cabals and the mafias nearly took over the governance from you. The more you tried to establish a good policy for the betterment of this nation, the more the cabals came round to thwart your effort. Immediately you left office, it is the same cabals who have been running down your image.
You are a gentleman to the core, embedded with humility. You knelt down publicly to receive the blessing of God. something your predecessors did secretly, you did it publicly to the admiration of many of us who love you. Forget about what the critics say. Thank God you are out of government now, I just want you to examine yourself. Did you not enrich yourself with public fund when you were in government? Declare it and make a restitution now before it is too late.
GENERAL MUHAMMADU BUHARI
His Excellency, you and General Idiagbon took over from Alhaji Shehu SHAGARI. You tried to bring sanity into the nation. I quite remember because of the corrupt people in the nation, you changed the currency we were using in those days to have a new look. The time limit you gave for the exchange of the old one to a new one did not allow the corrupt ones to change all stolen money, although a lot of things went under the carpet as some banks connived with these people to get their money changed for them. Those closer to you said you did not corrupt yourself when you came in as the military Head of State. Is it true? Examine yourself and see if there is any area in your life where public money found its way into your pocket, including the laudable programme -- The Petroleum Trust Fund ( PTF). Did you not enrich yourself through that?
His Excellency, the debt that General Olusegun Obasanjo paid is back and galloping. In your second coming as a civilian President of this nation, I am not impressed about the trend of event. The zeal that brought you in as a military Head of State has died down and corruption has set in. Do we really need IMF loan? Do we need loan from any external body? What about the oil money highly placed people are stealing? Don't we have enough resources in the nation to generate fund, instead of always going out to take loan outside the country with the deadly conditionalities. Please listen to what the Punch Newspaper wrote on the front page comment on Thursday December 12, 1985, concerning the IMF when General Babangida wanted to take the loan. It said, "Nigeria became a member of the IMF on November 30, 1961. Though entitled to the facilities of the IMF, Nigeria did not have any reason to approach the Fund for loan for almost 20 years of its membership. In fact in 1976 Nigeria became a creditor of the IMF when it invested a sum of N200 million in the fund. By a twist of fate, the consequence of a sordid tale of morbid craze for extravagance, prolegacy and sheer squandermania, Nigeria having accumulated a backlog of short term trade arrears amounting to over four billion naira formally applied for the IMF loan in 1983 under the latter's extended fund facility programme. Between 1983 and 1985 three successive governments had had discussions with the IMF but no definite stand on the loan was taken because of the funds stiff conditionalities. That was in 1985.
Things are not getting better in this nation. Mr President, have you not corrupted yourself? You need to take drastic measures on some issues in the country before things get out of hand. Remember what Lt General Theophilus Danjuma said some time ago. He said " NO nation has ever survived two wars that on the event of another civil war, there would be no more Nigeria. Now the make or mar of the entity Nigeria rests on your shoulder or do I say on your government. The way you have been sending the military to the Southeast is unbecoming of a democratic government. Have you forgotten we are no longer in the military regime? The way you are dealing with the South South, South East and other parts of the country, why not extend the same to the herdsmen. How can you for God's sake sleep comfortably with the atrocities and mass killing of innocent people by the herdsmen. Why not extend the operation python and crocodile to the herdsmen?
Please allow the military go back to their barracks and eqip the police well to face the task ahead so that you don't regret later.
Lastly, you are being deceived by your advisers that everything is well. Things are not really working. The corruption you came to fight has reached its peak with party members and officials stinkingly corrupt. Your intervention is needed sir. Don't also forget to purge yourself.
Before I conclude I want all of you to remember what Prophet Samuel told the Elders of Israel in 1 Samuel 12:3-5 " Behold, here I am here, witness against me before the Lord, and before His anointed. Whose ox have I taken? Or whom have I defrauded? Whom have I oppressed? Or of whose hand have I received any bribe to blind mine eyes with it? And I will restore it to you. And they said Thou hast not defrauded us, or oppressed us, neither has thou taken anything of any man's hand. And he said unto them, The LORD is witness against you and his anointed is witness this day, that ye have not found anything in my hand. And they answered, he is witness".
You have all ruled this country one way or the other, Can this be said you? Can any of you come out boldly to declare as Prophet Samuel declared?
Thanks and God bless you all,
Yours in His service,
Pastor John O A Adedeji.
Contact:[email protected]