Nnamdi Kanu's Absence In Court: How Liable Are His Sureties?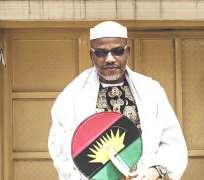 Justice Binta Murtala Nyako of the Federal High Court, Abuja, last Tuesday ordered that Senator Enyinnaya Abaribe, Jewish Priest Emmanuel Shalum Oka Ben Madu and Tochukwu Uchendu, who stood sureties for Mazi Nnamdi Kanu, the embattled leader of the Indigenous People of Biafra (IPOB), in his ongoing treasonable felony trial, to produce him in court in the next adjourned date or otherwise risk forfeiting their N300 million bail bond.
Kanu's whereabouts has remained a mystery since the military allegedly invaded his family compound in Umuahia in the 'Operation Python Dance 11 (Egwu Eke 11)'. No member of his family has been found since then. But the military said that Kanu was not under arrest.
Justice Nyako had on April 25 granted bail on stringent conditions to Kanu, which he had perfected upon producing three sureties who signed a bail bond of N100 million each.
At the resumed hearing in the trial last Tuesday, all the defendants in the suit, Onwudiwe Chidiebere, Benjamin Madubugwu and David Nwawuisi were present in court, except Kanu. Thus, the Federal Government also asked the court to revoke the bail granted Kanu on that note.
Shuaibu Labaran, counsel for the prosecution, told the court that the matter was for commencement of trial, but that he had amended the charge dated June 21. He said: "Unfortunately, My Lord, giving the circumstances this morning, which is the absence of the first defendant, Kanu, we are afraid that the trial cannot go on in the interest of justice."
He complained that although Kanu was granted bail in order for him to take care of his health, he, however, hardly complied with the bail conditions. He recalled that Kanu was granted bail on April 25 on health grounds, and "the court gave an order that he should go and attend to his health challenge and report back to court on monthly basis. My Lord, the first defendant never did and he is absent in court."
Labaran maintained that failure of Kanu to attend last Tuesday's trial "is great violation of the court order of April 25, granting the 1st defendant bail."
He added: "For failing to appear today, we urge court to revoke the bail granted the first defendant. Secondly, we seek the court to issue a bench warrant for the arrest of the first defendant; and thirdly, an order for the three sureties to come and show cause why Kanu was not in court to attend his trial."
The prosecution counsel insisted that the court should order the three sureties to appear before the court to show cause why the bail bond of N100 million which each of the sureties signed should not be forfeited. The Federal Government also demanded that if they failed to do so, "they should be committed to prison."
When Justice Nyako sought for explanation on why the Kanu, the first defendant was not in court, his counsel, Ifeanyi Ejiofor, said, "My Lord, I don't know where my client is. Ever since the Army raided his home on September 11 and 14, 2017, we have not seen the first defendant. I cannot tell if he is dead or alive."
Ejiofor objected to Labaran's application for committal of the sureties, saying he had filed a suit against the Chief of Army Staff on the whereabouts of Kanu. Ejiofor claimed that the military's invasion of his client's home led to his disappearance, adding that the military was in the best position to tell the whereabouts of Kanu.
Following Ejiofor's response, Justice Nyako demanded to know from the sureties why Kanu was not in court. Ogechi Ogbonna, who had earlier announced appearance for Senator Abaribe, Kanu's surety, said the Senator, does not have any information regarding Kanu's whereabouts.
He moved a motion seeking court's approval for the withdrawal of his client's consent as Kanu's surety, maintaining that he was no longer interested in offering his consent to serve as Kanu's surety in view of recent happenings. The court, on that score, gave Abaribe's lawyer three options from which to choose one.
remains a surety or produce the first defendant in court and hands off from being his surety," Nyako stated.
The second option was for Abaribe to forfeit N100 million-bail bond if he cannot produce Kanu. Thirdly, the court said it would give Abaribe time to produce Nnamdi Kanu. After a careful study of the three options, Ogbonna settled for option three.
In her ruling, Nyako ordered that the sureties should appear before the court to show cause why bench warrant of arrest should not be issued against them. The court also held that Abaribe could only be recluse if he produces Kanu on or before November 20 or forfeits the N100 million bail bond. The matter was adjourned till November 20, 2017. Given the circumstances that led to Kanu's absence in court, is it right for the FG to declare the sureties of Nnamdi Kanu wanted?
Kanu's Sureties Can't Be Held Responsible For His Absence In Court – Odumakin
Yinka Odumakin, National Publicity Secretary of the Yoruba apex socio-cultural organisation, Afenifere, in his reaction, said the whereabouts of Kanu must be ascertained before the court can hold his sureties liable or not.
Odumakin said there are divergent opinions as to the circumstances leading to Kanu's absence in court, maintaining that while some claim that he is in military custody following the invasion of his home, others like Dr. Orji Uzor Kalu, former Abia State governor, said he fled the country to London.
He said: "If you stand surety for somebody and the person refuses to come to court, you will be held liable for his whereabouts. But, in Nnamdi Kanu's case, there are two conflicting issues. There are those who are saying that the military invaded his house and ever since they cannot find him.
"There are those who are saying that he has fled the country. So, until you ascertain whether he is missing, dead or the military is keeping him, you can't hold his sureties responsible for his disappearance."
Kanu's Situation Is Not Normal – Sagay
Prof. Itse Sagay (SAN), Chairman of the Presidential Advisory Committee Against Corruption (PACAC), said he is not aware whether the sureties risk jail term if they can't produce the accused in court.
He said: "That is not normal. Usually there is an amount of money that is a bond, which the sureties may forfeit. I am not aware of whether jailing the sureties is possible. Maybe, that is possible under the law. But, I have not heard of that before, but I can't rule it out."
Agbakoba Non-committal
Dr. Olisa Agbakoba (SAN), former President of the Nigerian Bar Association (NBA), was non-committal in his submission, pleading that he lacked full knowledge of the facts of the case. He said: "I don't know the facts well enough but the general principle is, a surety is bound to produce an accused on pain of punishment."
'FG's intervention made nonsense of the whole matter'
Chief Victor Maduaguna, an Awka-based lawyer said if one undertakes as a surety to an accused person and he absconds from court, after due inquiry by the judge as to the cause of the absence of the accused in court and the judge found that it was not due to illness or impairment of mind, he will revoke the bail as provided by Criminal Justice Act, 2004.
Maduaguna continued: "Then, the surety of the absconded accused will be asked to produce the accused or forfeit the amount of the bail granted or be sent to prison or both. In the case where the accused was said to have been attacked by the accusers and could not be seen any longer and due diligent searching of the accused had been conducted, the onus will be on the accusers to produce him, because, his right has been violated.
The trial judge rightfully said that the surety will continue to be surety until the accused is produced before he could discharge them from the surety list. It is only the court that has apparent power to decide otherwise.
The accusers took laws into their hands, went to his house to attack. So, the onus is on the accusers to produce him.
Mr. Dennis Ezeonwumelu, an architect and Okeke Izundu, an engineer, spoke in the same vein. Izundu said that declaring the sureties wanted depend on the position of the law. But, Ezeonwumelu maintianed that if someone signs a bail bond, the court will asked the person to bring the accused on a certain date. He noted however, that sureties are not security men.
Both maintained that although Kanu has a case to answer in court, with a date given, but before the day Federal Government invaded the house and shot sporadically and there is confirmation that he was in the house at the time of attack. Thus they maintained that it is the Federal Government that should produce Kanu because it could not exercise patience till the court date. Thus, they restated that the sureties are not security agents that they should be following Kanu around.
FG Will Be Wrong To Declare Kanu's Sureties Wanted – Politician
Agada Bitrus, a Minna-based politician, said: "I am not a lawyer. So, I may not be able to speak the language of the courts. But, if I am to react based on what I hear about the whole scenario, my question would be: What led to the disappearance of Nnamdi Kanu in the first place? If his disappearance or non-appearance in court as expected is because the Federal Government's manhunt for him and had wanted to kill him at all cost, then why ask Senator Abaribe or others who are being fingered to have saved Kanu's life to produce him at all cost? That is to mean that the Federal Government would have killed Kanu, but for not for their interventions simply because he is leading the Indigenous People of Biafra (IPOB).
"This is against words or advice by many notable Nigerians, including former President Olusegun Obasanjo, who strongly suggested that the Federal Government should engage the group in a round table dialogue instead of trying to use AK 47 force that would amount to bloodletting. It is wrong for the Federal Government to use the courts to punish a law abiding Nigerians who stopped the bloodletting that would have followed the unnecessary killing of Kanu. That is why I maintain that going by the circumstances that led to his absence in court, it is not right for the Federal Government to declare the sureties of Nnnamdi Kanu wanted.
"I would rather suggest that the Federal Government should find ways to end the impasse, which to me include, but not limited to the paying the Biafran pensioners. I expect President Muhammadu Buhari-led government to always seek for alternative ways of resolving some sensitive sectarian issues instead of always resorting to use of force when there are better alternatives to solving a particular problem than military force.
'Declaring Kanu's Sureties Wanted Will Overheat The Polity'
Ogbuehi Valentine Amafili, chairman, Social Democratic Party (SDP), Imo State chapter, maintained that the Federal Government should ascertain why Nnamdi Kanu failed to appear in court and not just to declare his sureties wanted.
Amafili added: "I want to believe that those who stood as sureties for Kanu never asked him not to appear in court. If you declare them wanted, you will be overheating the policy because for now, all eyes are on IPOB and we should not add salt to an injury by declaring the sureties wanted.
Kanu's Sureties Are Men Of Honour And Integrity – YDP Chiefs
Chief Clement Obaraeze Urunwa, Owerri-based businessman and member of the Young Democratic Party (YDP), said: "The absence of Nnamdi Kanu in court in respect of the problem between the IPOB and the Federal Government cannot be a cogent reason to declare his sureties wanted.
"If it is now established that the freedom fighting Igbo warlord (Nnamdi Kanu) has committed suicide, do you go ahead to declare his sureties wanted? Before you stand as a surety for somebody in any circumstance, you must have built a strong confidence in such a fellow.
"The sureties of Nnamdi Kanu are men of honour and integrity, highly placed in society. So, if you declare them wanted because Kanu was not in court, you have by implication accused them of conspiracy in the matter."
Nkem Violet Nwadiuto Ibekwem, founder, Society for Good Governance and member of the Young Democratic Party (YDP), added: "This is a matter that should be handled by legal experts. But, I would not subscribe to the idea of arresting the sureties because of Kanu's inability to appear in court. If you act as a surety for anybody, does it mean that you will be carrying him on the back wherever you go to be able to produce him in count whenever he is required?"
'FG Should Adopt Political Solution To The Whole Issue'
Olalere Fagbola, a public analyst and journalist, absolved the Federal Government of the controversies surrounding Kanu's absence in court.
Fagbola, who reiterated that the law must be allowed to take its course always and at all times, said the Federal Government has not demanded too much, stressing that the whole matter is legal, and should be allowed to take it proper course.
He said: "Kanu has betrayed the mutual respect the sureties have in him to have staked their neck as sureties for him to allow him regain his freedom and then fight his cause in a legal way and not by constituting nuisance to the society, more so as the court spelt out conditions under which he must act."
"If Kanu has respect for his sureties, he should not have done otherwise. It is an affront for someone arraigned before the court over an alleged criminal offences and granted bail to still continue in the habit for which he is being accused of.
"Though, everybody is aware that the bail conditions were political, Kanu is expected to have conducted himself well until the matter before the court is disposed off. What Kanu has done should serve as lesson to millions of Nigerians who are in the same shoes as his sureties. A lot of people will now be afraid to stand as sureties again for others.
"This is a great lesson for both the suspects and the sureties. Both sides have learnt their lessons in a hard way. At present, it is very difficult for Kanu to return to Nigeria, because, he has worsen his case.
The only way out is to appeal to the Federal Government to adopt political solution to the whole issue so as to lessen tension in the South East region of the country and leave the sureties off hook. But, if it is a plan work between Kanu and sureties so as to allow him to escape, then they are in for it."
'Kanu Saga, As Manipulation Of Political Elite'
Comrade Igbini Emmanuel, National President, Vanguad For Transparent Leadership And Democracy (VATLAD) stated: "For me, the Nnamdi Kanu and his IPOB group are not worth spending my precious time discussing. Not at all! This shameless drama is only a further demonstration of the decades of fantastic foolishness and 'mumu' of our Nigerian privileged elites manipulating 200 million Nigerians, to reposition themselves ahead 2019 elections in order to gain political advantage."
Court Right On Kanu's Sureties – Lawyer
Mr. Emeka Okafor, an Enugu-based lawyer and chieftain of All Progressives Congress (APC) fully aligned himself with the position of the court on Nnamdi Kanu's sureties, saying that even non-lawyers know the implication of standing surety for an accused person, not to talk of a lawyer.
He stressed: "If you stand surety for somebody, you have said that if the person is not there, you can stand trial for him or her. Nobody is above the law. If you are not sure of an accused person, don't stand surety for him.
"Go to police stations every day, many people are in trouble for standing surety for accused persons and they escaped. Is it because Abaribe is a senator that his case is different?"
Okafor insisted that the onus lies on Kanu's sureties to produce him for trial or else, failure of which the judge will unleash the hammer of the court on them.
-Independent-