FEMI FANI-KAYODE: INJUSTICE OF APPELLATE COURT & EFCC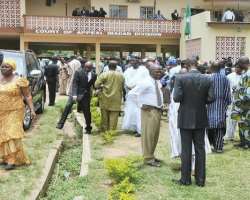 Former President Olusegun Obasanjo deserves to be lauded for his judicious attempts to rid the country off corruption by thinking it through to establish the two anti graft agencies- Economic and Financial Crimes Commission (EFCC) as well as Independent Corrupt Practices Commission (ICPC). Without mincing facts the Nigerian fourth Republic would eternally be remembered for this great brainchild of OBJ.
To some political analysts and critics alike, the organizations were set up specifically by Obasanjo to witch-hunt and silence those in opposition who are never the friends of the President or those suspected to have ''fall-out'' with the Presidency, others also believed that the organizations have helped to redeem the image of the country especially in the international community.
We are all aware that before now the West giants never agreed that anything good could ever come out of Africa especially Nigeria except deceptions, kidnapping, corruption, restiveness, sectarian violence, electoral fraud etc, but now their negative perceptions about Nigeria have reduced precipitously.
Statistics however revealed that all the high profile cases investigated and handled by the anti graft bodies which bother on corruption and abuse of office during Obasanjo's tenure were clearly within the confines of rule of law, and those accused were actually guilty of the offences leveled against them. Be that as it may, the government of late Umaru Yar'Adua was equally appraised by several political stakeholders and some shocking facts were discovered after much critical analysis by them. It is an open knowledge that there were high degrees of bias, witch-hunting, arm-twisting, foot-dragging etc in Yar'Adua government over sensitive cases of corruption involving many political office holders.
One of such cases was how the case of former Delta State Governor corruption charges was handled Chief James Ibori and the roles played by former Attorney-General (Michael Aondoakaa) and the men of the bench. Apart from these, Nigerians are still yet to be relieved by the dramatic and unceremonious removal of former EFCC boss, Mallam Nuhu Ribadu simply because while he was discharging his constitutionally assigned roles he had serious encounter with people like Ayo Fayose, Bola Tinubu, Tafa Balogun, Joshua Dariye, Atiku Abubakar, James Ibori who was believed to have spent billions of naira during Yar'Adua's pre-election period.
It is a public knowledge that men of rare distinctions and honour like Chief Femi Fani-Kayode (former Aviation Minister) and Mallam Nasir el-Rufai (former FCT Minister) suffered intimidation, humiliation, incaseration, brutality etc. simply because they served their motherland meritoriously during Chief Olusegun Obasanjo's regime. I need to state clearly that the intention of these revelations was never designed to speak foul of our dead President Alhaji Umaru Yar'Adua (may his soul rest in peace).
However, Nigeria public be ware that it is most uncharitable and unfair in my unbiased and dispassionate opinion that the case between the Economic and Financial Crimes Commission and Chief Femi Fani-Kayode would be twisted in the public domain with the vicious and callous intention to malign and tarnish the image of an innocent man who gave his best while serving his country. I can remember vividly that in July 2008 the EFCC accused Chief Femi Fani-Kayode of squandering 19.5 billion naira Aviation Intervention Fund and when it was clear that there was absolutely no evidence to sustain that charge and the fact is that he has not only left 7.2 billion Naira in the Aviation Intervention Fund account but that he was actually the one that investigated and exposed the fraud that the 6.5 billion Naira Safe Tower Project money had gone missing from the Aviation Intervention Fund before he became Minister, they dropped all the charges against him for lack of substance and merit.
For posterity, the case of witch-hunting which was targeted against Chief Femi Fani-Kayode became empirically clear when EFCC under the current leadership of Farida Waziri was said to be acting on ''order from above'' (orders from late Yar'Adua) and broke into his personal bank account and subsequently calculated all the financial in-flow (lodgment & withdrawal) that had been turned over in that said account, including his monthly salary as a government minister and all his financial transactions even before he came into government. The anti-graft further round-figured the amount to Two hundred and fifty million naira (N250, 000,000.00) and spuriously made the unsuspecting Nigerian public, the media and the international observers to believe that he was "laundering money"; and Chief Fani Kayode was later charged on offences bothering on "money laundering" in 2008, December.
EFCC claimed that every single deposit that he made into his personal account that was up to 500,000 naira or more over the few years before and in the few months after he became a Minister constituted one count of money laundering each. But EFCC or no Courts of competent jurisdiction have alleged that the money in question was stolen from anywhere and neither have they said that it comes from any illicit source and Fani-Kayode has not been charged for stealing N250 million contrary to what was being erroneously peddled in some print and electronic media. But it is wicked, ridiculous, subjective and very unfair of EFCC to trample on someone's good name and openly label him ''money launderer'' simply because monies to the tune of N500, 000 naira were deposited into his personal account, even as there are documentary evidences to show that the deposited amounts which are presently used as 'count charges' in the Courts were lodged to the said account before Fani-Kayode got appointment from Federal Government.
I perceive a big flaw on the part of Nigeria judicial system in the sense that the Court of Appeal in Lagos (in May 27, 2009) could in its wisdom set aside the judgment of Justice Ahmed Mohammed of the Federal High Court in Lagos and held that computer-generated statement of account of the former Minister of Aviation, Chief Femi Fani-Kayode, was admissible as exhibit, and could deliver a judgment on such an high profile case with such magnitude of impunity. It is most unbelievable to see that judgment was given within 5 minutes, and no reason whatsoever was given as to how and why the Court of Appeal came to its misty and confusing decision because it did not even read out the contents or give the counsels of both sides' copies of its ruling.

I however subscribed to the idea that the Supreme Court should be the final arbiter to act on this sensitive case which the appellate Court has vehemently treated with levity.† Whatever Justice Galinje reasons are, no one in the bar and bench could possibly tell when the judgment was delivered. It should be on record once again that the Supreme Court ruling which the appellate court have sought to overturn is the 1975 case of Yusufu v. ABC which was presided over by no less a distinguished personality than the former Chief Justice of Nigeria, Justice Atanda Fatayi- Williams who actually read the ruling of the Supreme Court himself on that occasion.
In this country, based on the principle of precedence and "stare decisis," it is only the Supreme Court that has the power and the right to overturn or overrule it's own previous decisions on any matter and certainly not the Court of Appeal or any other lower Court. It is either that or the legislature or National Assembly alone that can change the existing law by amending the relevant act which in this case is the Evidence Act. People should cautiously note that I am not Chief Femi Fani-Kayode's fan, neither am I Festus Keyamo's (counsel to EFCC) fan, but I respect the duo a lot and I am proud to have them as true compatriots. I am a medical doctor in Bristol, England, and I enjoy what I am doing but I have been following this case meticulously, since 2008 and I believe justice needs to prevail in Nigeria as we are not running a ''Banana Republic'' and neither are we under colonial rule, there are processes to be followed in law and those processes must be followed without fear or favour, we should not allow the international community to always laugh at us all the time, because they are following this case with keen interest.
It will be unwise of anybody for some political reasons to try and discredit or pooh-pooh Chief Femi Fani-Kayode through some disgruntled elements in EFCC or any other body or agency such that his People's Democratic Party and his people back home in Osun State may not want to show support for his governorship bid in 2011- those with such vicious intentions should bury their heads in shame, because Osun State needs development and Femi Fani-Kayode is still the only identifiable best man for the job, Osun State Governor.
The man has created a niche for himself for all to see even as he superlatively and creditably served as special adviser to the former President, Culture Minister and Aviation minister; I believe truth shall eventually prevail and Nigeria will no longer be hoodwinked about this over-publicized matter. Those who are championing campaign of calumny against Fani Kayode in a bid to stall his political ambitions have not only failed but have openly showed that the gentleman has better pedigree and credentials than them, and they are already intimidated and jittery about the momentum he is gathering everyday from the people of Osun State.
Meanwhile, I urge the Supreme Court to give accelerated verdict to this case without waste of time and clear the good name of Chief Femi Fani-Kayode and as well rescue the judiciary from the current mess the appellate Court has dragged it to. It is high time Nigerians stopped to celebrate morons and people of no value and character who wear so much desperation for political positions they don't merit, by God's grace they shall never rule Osun State.
Moreover, the world have abundantly noticed the roles played by the Ooni of Ife, Oba Sijuade Okunade Olubuse 2, in making the State to witness sanity and progress; this effort has been greatly identified in his choice of Chief Femi Fani-Kayode to be the next Governor of the state (Osun State). Our prayer for him in diaspora is that God will continue to protect and spare his life, he will continue to live and witness Osun State as it prospers under the leadership of Chief Femi Fani-Kayode, and the killers of Chief Bola Ige and their agents will never taste power in Osun State, they should also know that the blood of the dead (Bola Ige) is still screaming for vengeance from the graveyard and the "Living Spring" (Osun) will surely judge them harshly in no time.
Kunle is a social critic and resident of United Kingdom, [email protected]
Disclaimer:

"The views/contents expressed in this article are the sole responsibility of the author(s) and do not necessarily reflect those of The Nigerian Voice. The Nigerian Voice will not be responsible or liable for any inaccurate or incorrect statements contained in this article."
Articles by thewillnigeria.com