Imoke Directs Aides With Political Ambition To Resign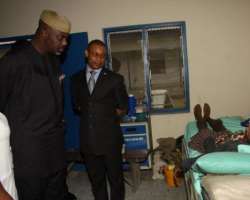 PHOTO: CROSS RIVER STATE GOVERNOR MR. LIYEL IMOKE (L) SYMPATHISIZES WITH A TB PATIENT WHILE STATE HEALTH COMMISSIONER, DR EDET IKPI OBSERVES AT THE LAWRENCE HENSHAW HOSPITAL ON WEDNESDAY.
CALABAR, CROSS RIVER, June 03, (THEWILL) - Governor Liyel Imoke of Cross River State has called on all political officer holders with ambition of contesting for office in the forth coming elections between now and May 2011 to resign their appointments.
Addressing the State Executive Council during its weekly meeting, Wednesday, Imoke said all such office holders have until Wednesday June 9th to submit their resignation letters to his office.
According to him, the directive covers Commissioners, Special Advisers, Special Assistants, Chairmen and Members of Boards, Agencies as well as Permanent Secretaries and all other public office holders who intend to contest in the forth coming elections, stressing that those who fail to comply should forget about contesting for any elective posts.
The action is intended to end speculations that those holding political offices are being nominated and supported by the State Government or are seen as Governor's candidates, as well as avoid a distraction from the discharge of their duties.