Osun finally set to conduct LG election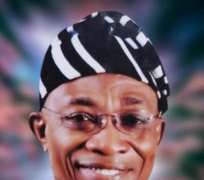 The Osun Independent Electoral Commission (OSIEC) on Wednesday announced Saturday Jan. 27, 2018 as the date for the Osun Local Government election.
Mr Segun Oladitan, Chairman of OSIEC, while announcing the date during a press conference in Osogbo,said the date was chosen after deliberations with all the political parties taking part in the election.
He said nomination forms for candidates taking part in the election was however free, stressing that candidates can pickup the forms from OSIEC office free of charge.
He however said administrative charges would be applied and that political parties taking part in the election would be required to pay this charges after a reasonable, realistic and affordable amount is agreed upon with the parties.
Oladitan said the last local government election in the state was conducted in Dec. 2007 and that the next election to be conducted would be unique as it would be an election to vote candidates into the office of councillors.
He said the state shall operate a parliamentary system at the local government level and that councillors in each local government councils would be the ones to elect chairmen from amongst themselves.
He said for any candidate to become a councillor chairman or vice chairman, he or she must first be elected as a councillor first.
Oladitan explained that the forthcoming election would hold throughout the 378 wards of the state 68 Local Council Development Area (LCDA)s, Area Councils, Area Offices.
He said 39 political parties registered with OSIEC for the election but only 36 political parties, registered with Independent National Electoral Commission (INEC) out of the 39 would be allowed to participate.
He commended political parties and the executive committee of the Inter-Party Advisory Committee (IPAC) in the state for their cooperation in working towards the success of the coming election.
He however appeal to all political parties and other stakeholders that would be taking part in the election to play the game according to the rules and guildlines of the electoral commission.
He thereafter declared public and active the 90 days notice constitutionally required by law ahead the conduct of local government elections in Nigeria, starting from Oct. 18, stressing that the election would, all things being equal, hold on Jan. 27, 2018