PDP Chairmanship: Fayose reiterates call for single candidate from Southwest …as Jimi Agbaje visits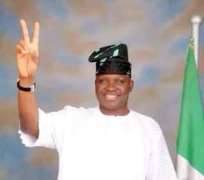 Ekiti State Governor, Mr Ayodele Fayose has reiterated his position
that those aspiring to be the National Chairman of the Peoples
Democratic Party (PDP) in the Southwest zone must come together and
present a single candidate for the position, maintaining that "it
won't be in the collective interest of the Southwest zone to present
six aspirants at the convention as we presently have."
Governor Fayose, while receiving one of the aspirants, Mr Jimi Agbaje,
who paid him a visit in Lagos on Wednesday, said "chairmanship
aspirants from the Southwest must come together and allow one person
to fly the flag. It will be like crashing before take-off if we take
six aspirants to the convention."
According to a statement issued on Wednesday, by his Chief Press
Secretary, Mr Idowu Adelusi, Governor Fayose urged Mr Agbaje to pursue
his aspiration with decorum and make sure that the PDP and Nigeria
remained the major reasons for the aspiration and not personal
interests, adding that; "A situation where we have aspirants that
already have president aspirants will not augur well for the party."
The governor said; "We held a meeting with other chairmanship
aspirants on Monday, and it is expected that a follow up meeting will
be held very soon. I urge you (Jimi Agbaje) to attend the meeting so
that we can forge a common front together. This is because the
Southwest zone cannot go to the convention with more than five
aspirants as we now have and expect to win.
"Most importantly, as the only PDP governor in the Southwest, I cannot
be going round with all of you (aspirants) to solicit for support."
In his own remark, Mr Jimi Agbaje said he came to the governor to
formally inform him of his decision to run for the PDP national
chairmanship position.
"As the only PDP governor from the Southwest, I have come to formally
inform Your Excellency that I will be seeking election as the National
Chairman of our great party, the PDP.
"I am of the opinion that it will be inappropriate for you to get to
know about my aspiration in the media, hence, my decision to come here
and tell you formally," Agbaje said.
While describing himself as "the best man for the job," Mr Agbaje
said; "If not for what happened at the August last year's convention,
I would have clinched the chairmanship position then and I am
confidence that I will emerge as the chairman this time around."
Mr Agbaje, who promised to attend the next meeting with other
aspirants from the Southwest so as to jointly forge a common front,
added that "there is no desperation in my aspiration. Rather, it is
the PDP that matters."