The Septuagenarian Juju Maestro, Ahuja Bello Needs Your Help.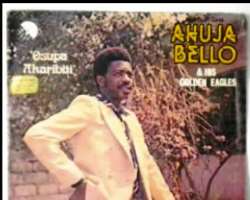 Like a soaring eagle, Ahuja Bello fame hit the airwaves of the Nigerian juju music arena like a wild bush fire in the harmattan. This was from the early 70s.
In a chanced interview recently with Ahuja Bello in his home in Ayobo, Lagos, Ahuja Bello, who now lives from hand to mouth, told me, the sad story of his journey from stardom to obscurity.
His looks easily betrayed him as a man who is doing battle with the vicissitudes of life. He didn't have to echo his peculiar life drama, as popularised in the song entitled Life Drama by Afro-pop singer, 9ice, before one knew he had tasted a slice of the reversal of fortunes. But with his impaired gait and lean frame, one could tell he must have been hit several times by the blustery winds of life.
When he was prodded to knit the tragic-comic story of his life, one wasn't astounded by his outburst: "It's well! Let's just thank God, my brother."
But what could have made the once bubbly and famed Ahuja Bello, who used to be one of the celebrated Juju music sensations, to suddenly become a shadow of his former self?
At the outset of his career, it was a kind of pleasure ride on the boulevard of the Nigerian entertainment industry, when he released his debut album, Awa Ti Dan Fo, in 1976. He was certainly not a flash in the pan, as he subsequently turned out hit upon hit. He soared high, even to the envy of some, on the wings of such ever-green albums like Ariya Ti De, Ahuja in London, Ijo olomo, Fellow Nigerians and Victory. He was loved by his fans. He globetrotted. He also probably had no worries bed-hopping, typical of an averagely successful musician. He had cars. He even built a modest house in his hometown, Iseyin, Oyo State. Above all, he was a household name.
Looking back now, it appeared things happened so fast. For the next six years after he launched his career, he hugged fame so warmly; and he cherished it with every ounce of his blood. But the overpowering power of life dealt him a heavy blow on August 24, 1982, less than a month to his 40th birthday! He recalled: "I had a ghastly motor accident about 3.00am around Alaka in Lagos. I was returning from a show tagged Itunu Awe Day in Martins Street, Lagos when it happened. It was a yearly event, where several musicians used to perform. I was driving my Toyota car and there were three other people in the car with me. Somehow, I rammed into a stationary Army car, a situation that resulted in a multiple accident involving two other cars coming behind me. As a result of the collision, the head of my right femur got broken. Strangely, the three other people also suffered fractures in their right legs. It was Y.K Ajao (a fellow Juju artiste) who recognised my car when he got to the accident spot-he had also performed at the show after me."
If he, however, thought that his tribulations were over, he was gravely mistaking. Five years after, he found himself fighting the battle of his life when he fell from an Okada (a commercial motorcycle) somewhere around his home. Part of his right ear was chopped in the crash. It was so heartrending that it temporarily removed the luster from his blossoming career.
Sadly, all that seemed to be like a mere blurb to his seriocomic memoirs, as he also revealed another disquieting period in his career. About 10 years after his tragic fall from the Okada, he had gone to a fan's house to collect his engagement fee for a show when tragedy struck again. He was obviously infuriated that the fan wasn't available. But as he was descending the stairs, he tripped and fell! In the process, he suffered a serious fracture in his left leg and developed Hernia. "I couldn't go for treatment of the Hernia because I was having a terrible cough for three months. But after I was treated of the cough at IDH, Yaba, Lagos, I was then operated upon for the Hernia," he further explained.
The bitter experience, no doubt, taught 75-year-old Ahuja Bello a hard lesson about life. Most of his friends and family members, according to him, deserted him. He was left to nurse his wounds and fight the battle of his life alone. He, however, said that he didn't resent anyone. Reason: "I cannot totally blame them. In such a situation, people who would have feel pity for you and help you financially will be spiritually manipulated not to look your way. But I thank God I am alive today. At least, it was after this whole saga that I managed to build this house (an un-painted, sparsely furnished four bed-room flat). I also released an album six years ago, but it was not a commercial success," he stated.
Like a cat with nine lives, he is still hopeful of a better tomorrow. Today, he is not as active as some of his contemporaries and is not signing endorsement deals like the crop of new generation artistes either. But occasionally, some of his loyal fans still engage him to serenade them at social events.
"In the thinking of some people, Ahuja Bello is dead. I remember during one of my shows three years ago, a man came to the stage to touch me. He said: 'Are you truly Ahuja Bello? Or are you his younger brother? It was rumoured that you passed on some time ago.' But I thank God I am alive. I don't do studio albums any more. I do live shows when I get invitations. But I know things could be better than this," he said with infectious stoicism...
However, if you have anything to assist him financially, you can send it to his account number:
Name: Ismail Bello
Account Number: 0054429033
Bank Name: Access Bank Plc, Ayobo branch.
Tel. Number: 08023460415.