OUR NEW FACTORY WILL CRASH PRICES OF CEMENT – UFOMBA, CEO REAGAN CEMENT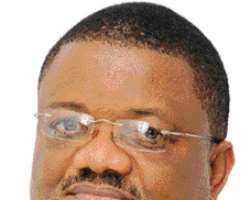 Ufomba
Chief Reagan Ufomba, Chairman/CEO, Reagan Renaissance Cement has decried the high cost of cement in the country blaming it on the huge gap that exists between demand and supply.
'Nigeria at the moment has the capacity to consume over 18 million metric tonnes of cement annually, but right now only about 6.5 million metric tonnes is produced annually which leaves us with a shortfall of about 11 million metric tonnes,' Ufomba said in an exclusive interview with Daily Sun.
Ufomba said getting out of this problem will require creating the right enabling environment that will boost investments in local manufacturing and distribution of cement.
He listed such factors to include a crash in bank lending rates to about 6 per cent for manufactures to enable them make meaningful investments, an efficient transport system that allows the movement of cement from manufacturing plants to end-users even in the hinterlands, and uninterrupted power supply to make production cost cheaper.
Until these factors are put in place and the country has a virile local cement manufacturing industry, it was clearly unwise to ban the importation of the product, Ufo mba said.
He also spoke on the proposed $350 million (about N52. 5biliion) integrated cement production factory the company plans to float in Abia State, saying it will go a long way in resolving the problem of scarcity, high cost of cement and unemployment in the country.
Excerpts:
The state of the economy
I think the economy in contemporary times has been at what I can call a standstill; there has been no quantum leap in any direction. What has happened over the past few months has worsened the case for Nigeria and other third world countries. From the economic meltdown which started from the United States and spread to Europe and Africa had affected Nigeria so badly late last year. So the economy has been stagnated and this is made worse by the poor implementation of the budget by the federal government which has been on the average of 45 to 60 percent implementation at the maximum. If you fail to implement budgets then the people suffer. So that is the situation that we have found ourselves as a nation; a situation where banks don't lend money to businessmen and that means shutting down the oil of business which is funding, and it is a sad economic state.
What should be done?
If we look at the policy of the government especially the divestment from investments and it is leaving the economic growth in the hands of the private sector, a lot of policies should be put in place to encourage the growth and sustenance of private business.
The enabling environment has to be conducive enough for private investments, there should be what I call cheap money being lent to businesses to trade with as it is done in Europe and America and other developing countries at the maximum of 6 per cent interest rate. Government on their part must implement their budget if we want to move the economy forward.
The next thing is that electricity has to be improved. We all know this is necessary for any industrial and business growth. Sadly, the Manufacturers Association of Nigeria (MAN) is not helping the government with double-speaking. MAN will one day say industries are folding up because of poor power supply and in another day they will be telling the Commerce and Industry Minister that electricity supply has improved and that they should therefore ban the importation of cement.
The same people who are agitating for this ban because electricity had improved are the major importers of this product. It was the same advice that they gave to President Yar'adua to ban the importation of bagged cement. some of us have four to five vessels coming into the country and as soon as that policy was effected and implemented, the price of a bag of cement skyrocketed which we had managed to bring down to between Nl,OOO and Nl,2000 in this country.
So government should be wary of advises they get from groups such as MAN and people who are self serving. I think President Jonathan has taken one giant stride by appointing himself as the Minister of Power. So let us wait and see what policies he wants to execute to revitalize the power sector. We learnt he wants to put in place an emergency; lets wait and see.
Foray into cement business
I have always told people that I owe Aihaji Dangote a lot of gratitude for what I am today in this business. I worked with him for over 15 years as his major distributor. And along the line 0 took over the old cement plant in Calabar and our efforts paid in 2008 when I was granted the licence to import and repackage cement. That is what we are doing currently. Our product is Reagan Cement and it is one of the best in the market and by the grace of God we have also gotten quarrying licence to go into full manufacturing. We have just signed some agreements with technical, financial and strategic partners from Europe. We are also supplying cement to the Republic of Chad and Niger.
Our cement factory in Abia
You know if you are licenced by the federal government to import cement you have to follow up with what we call backward integration where you are expected to set up a terminal, a bagging and manufacturing plant – and to show evidence that you have local content in your operations.
Last week we signed a contract for the establishment of an over $350million (about N52. 5biliion) integrated cement production factory in Abia State.
We are ready to go, we have gotten quarry licence, and within the next three months we will be on ground on site and this will provide quite a lot of jobs for Nigerians,. It is an integrated plant with inbuilt electricity generation ability. So we are also going to supply neighbouring villages and towns with electricity generated from the plant. We are looking at hiring a direct labour of 140 workers and indirect labour over 200 workers and we are looking at the schedule turnover to be over 100million euros annually and we are looking at the production capacity to be about 1.2million metric tonnes.
Our technical partners for this project are from Spain and Germany. The plant will be sited in Abia State. We are tapping the limestone deposits in the state and this is one of the factors that informed the location of the industry in Abia. The demand for cement is also highest within the Calabar, Imo and Abia axis. So we know what we are doing and if by the grace of God we have a kind of leadership that is canvassing for true federalism with each zone as a development centre as General Babangida proposes then we will be better off.
High cost of cement
A lot of factors have been responsible for the high cost of cement in Nigeria and for us to get out of it the enabling environment has to be created to assist the cement businesses grow. We must have a transport system that allows the movement of cement from manufacturing plants to end-users even in the hinterlands. The rail system has to be efficient and the power problem has to be resolved to make production cost cheaper.
It is only when we have these things functioning that we can only begin to talk about cheap cement. Nigeria at the moment has the capacity to consume over 18 million metric tonnes of cement annually, but right now only about 6.5 million metric tonnes is produced annually which leaves us annually with a shortfall of about 11 million metric tonnes and this gap has to be filled through importation. The people who have constantly called for the ban on importation of cement are the major importers. They import over 90 per cent of the cement into the country. So government has to look at the policy and review it critically so that the space will be open to allow new entrance and access to cheap funds.
New investors have to come in and they must have the cheap funds either to bring in the equipment or to harness the limestone the raw materials for cement manufacturing that will ultimately bring down the price of cement. Over a week or two ago we heard someone advising the minister of commerce and industry on the need to ban importation of cement and w said we do not need any government fiat. If people think that importation of cement is not attractive they should simply stop, they don't need government ban or fiat for them to stop a business that is not attractive.
I am against the ban simply because what is manufactured locally is not sufficient to meet the demand of the local market. There is a gap of over Ilmillion metric tonnes from what is manufactured here and this means the price will be out of the reach of the common man.