More than $16b required to actualise effective railway service in Nigeria: Rotimi Amaechi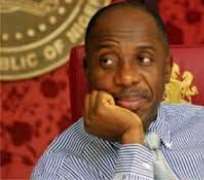 Nigeria requires about $16 billion to bring to fruition her the lofty plans a robust rail service, minister for Transportation Mr. Rotim Amaechi, has said.
The minister also announced that the government would  purchase more coaches and locomotives between now and December to boost rail transportation across the country.
He spoke to  newsmen at the Presidential Villa, Abuja after a close door meeting with President Muhammadu Buhari.
He disclosed that as part of the efforts of his ministry to boost rail transportation in the country, two deep seaports would established in Bonny, Rivers State and Warri, Delta State.
"There are approvals for our sector but we have to look for the money because the money is not just there. We need about $16 billion dollars and we can't just pluck that form the sky. We will try and see if we can get Public Private Partnership PPP, especially as it pertains to the seaports," the minister said..
"There are two deep seaports that were approved; the Bonny and Warri deep seaports. As for the Port Harcourt railway industrial park, we should also be able to get that done through PPP even though I doubt if we will be able to get railway as PPP because it is quite expensive".
He further said there are plans to also dredge the Calabar seaport, through Public Private Partnership PPP.
Gushing with excitement after what appeared to be a very fruitful meeting with the President, Amaechi said "the President sleeps and wakes up thinking about our railways; therefore I must always see him and tell him how far we have gone.
"Once he hears the progress that is being made, he feels happy. He is also very pleased with what we have done in terms of the narrow gauge, between now and December; we are bringing in more locomotives, coaches and wagons, to ensure efficiency in the narrow gauge.
"We are expecting 10 for Kaduna-Abuja axis and another seven, which will hopefully go to Itakpe-Warii because we believe that by June, that axis should also come alive," he disclosed.
Amaechi, speaking on the problem of gridlock on the road leading to Apapa port in Lagos assured users of the Ports that the gridlock would be over by December.
"In terms of the narrow gauge, if not for a hitch, we would have commenced trucking cargo form Apapa seaport to Ebute-Metta-Lagos and takeaway the challenges  we are having with that Apapa grid and bad road. That will happen before December.
"Since coming on board, the Muhammadu Buhari administration has made concerted effort to fix the railways, to ease transportation of persons and goods across the country"