Keyamo's Presence At Anambra Governorship Petition Tribunal Causes Panic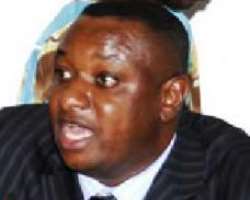 The presence of fiery human right activist, Barr Festus Keyamo yesterday at the Anambra governorship election petition tribunal caused commotion as supporters of both Dr Chris Ngige and Governor Peter Obi engaged each other in argument over who contracted the services of the Lagos lawyer.
While member of the Ngige supporters club were sure it was their principal who contracted the services of keyamo, those of Mr. Peter Obi insisted that Keyamo was in court to represent them.
Keyamo was latter lifted above his height when one of Obi's supporters threw a joke at Ngige's that his principal no longer possesses the wherewithal, and as such can not pay the bills of a lawyer in Keyamo's standing.
All these took place while the Lagos lawyer stood outside the tribunal, just a few steps from the supporters and made phone call after phone call, without any idea that he was the bone of contention among the supporters of the two Anambra political gladiators.
Supporters of both Ngige and Obi were however disappointed when the matter started and Keyamo was no where to be found among the members of the bar. It was not until the matter was winding up at about 12noon that Keyamo quietly brushed past people, making his way to the front row, but not without murmurs from those present.
Keyamo however beckoned on counsel to Dr Chris Ngige, Emeka Ngige (SAN), who walked out and returned after he has had a heart to heart discussion with him.
If the arguments of the supporters raised Keyamo's status as a lawyer, the comment of counsel to Mr. Peter Obi, Onyechi Ikpeazu (SAN) put him above his peer. Just immediately the Ngige Versus Obi matter was adjourned, Ikpeazu threw a joke at the judges, saying that he had initially caught cold when Keyamo entered the court as he thought Ngige had contracted his services.
"My lords, I even saw Festus in court today and my temperature went very high, but I was latter informed he came for another matter. Is just like when you see Christiana Ammanpour on CNN, you have to be certain there is crisis somewhere around the world. So it was as if there was crisis here." Ikpeazu said.
Ukpakareports.com was however unable to ascertain what matter brought the Lagos Lawyer to Awka as he immediately zoomed out of the court premises before he could be reached.
|
Article source