Anambra guber election: APGA posts electrifying show to kickstart camppaign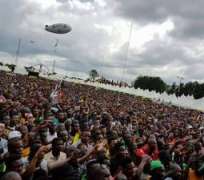 The All progressives Grand Alliance has kicked off its campaign  the Nov. 18 Governorship Election.
In electrifying outing, the party which was founded by the Late Emeka Odumegwu Ojukwu, showed why it is the party to beat in the coming election.
Political bigwigs within and outside the party graced event. In the personality count are  the National Secretary APGA, Labaran Maku, a former Information Minister, a former governor of Central Bank of Nigeria, Prof. Chukwuma Soludo, former Nigerian Ambassador to Spain, Amb Bianca Ojukwu, some APGA executives, House of Assembly members and party faithful.
Others are traditional rulers, religious leaders, different cultural troops, musical artists, masquerades.
The crowd from 179 communities in Anambra came in flamboyant APGA colours to express their solidarity and support for Gov. Obiano's re-election.
Receiving APGA's the party's flag, Gov. Willie Obiano noted that his administration had clamped down hoodlums and miscreants in the state to ensure adequate security, saying he would continue the tempo when re-elected.
"My administration has invested N200 million in Health Insurance scheme to provide free health services to the indigent in the state.
"I have finalised plans to increase workers salaries by next year and it has been factored in the 2018 budget,'' Obiano said.
He noted that his massive investments in agriculture would make the state self-sufficient in boosting export of crops and vegetables to Europe.
"I urge you to organise yourselves in different cooperatives to benefit from the agricultural loans and seedlings my administration has mapped out for farmers in the state,'' the governor said.
The wife of the Governor, Ebelechukwu Obiano said the present administration run an all-inclusive government, involving youths in decision making.
She said that Obiano government had employed virtually all graduate, who are physically challenged and offered scholarship to indigent people in the state.
"We have assisted in rehabilitating some insane people in the state and have provided prosthetic limbs to people, who are in need of them,'' Mrs Obiano added.
Governor Obiano promised to sustain the tempo of `N20 million Community choose your project initiative' and urged those who had completed their first phase of the project to promptly apply for their second phase.
He urged the people to desist from any temptation that could make the election `a do or die affair'.
"We have two things at stake, to vote for continuity, to lift Anambra high or return to the days of darkness and lawlessness," the governor stressed.
Victor Oye, national chairman of the party, said that the Obiano administration had ensured prompt payment of salaries and allowances, as well as payment of pension and gratuities to pensioners in the state.
Bianca Ojukwu, wife of founder of APGA and former Nigerian Ambassador to Spain, expressed confidence that re-election of the governor would help to solidify his achievements and enable him to continue the transformation of the state.
She noted that it was regrettable that some who were founding fathers of APGA had dissociated themselves from the legacy instituted by Late Odumekwu Ojukwu, assuring that the party would continue with the brotherly love initiated by him.
Victor Umeh, chairman Obiano re-election Committee, said: "today is operation show your muscle. APGA has transformed Anambra State and successively the story has remained progressively the same since 2006 from Obi to Obiano. We are by this crowd putting another parties on notice about what is to come".
Umeh urged Nigerians to respect the choice of Anambra people, which according to him is APGA.
He enjoined the people to troupe out en mass to exercise their franchise on the Nov. 18 election, advising them to also ensure that their votes would count.
Labaran Maku, national secretary of APGA, commended governor Obiano for his many achievements in the state and the country at large.
Maku said: "if it is possible to borrow a governor, I will borrow Gov. Obiano for my state. Anambra people should ensure re-election of the governor, otherwise they will suffer like other states that are still owing six months salaries".
Prof. Chukwuma Soludo, former governor of CBN, said: "APGA has no opposition as the two other opposing parties are dead on arrival".
He explained that one of his reasons for extending support to Gov. Obiano was his promise to observe the zoning arrangement.
Virgy Etiaba, former first female governor in Anambra, called on the people to secure their vote to ensure accountability.
Alex Otti, governorship aspirant in Abia State, said: "Anambra people are lucky to have Obiano as their governor'', saying Anambra had since left other states behind in terms of infrastructure and other developments.