Nigerian National Association The Netherlands (NNA-NL) Felicitates with Nigerians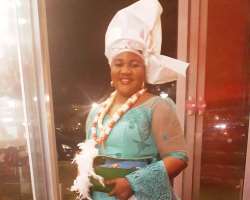 Chief Mrs Evelyn Azih,President, Nigerian National Association-The Netherlands(NNA-NL)
As Nigeria clocks 57 , let us use today to pray for our nation. Let us pray for peace, unity and progress. Let us pray for God's wisdom and understanding in tackling the political, Social and economic problems in Nigeria. Let's us pray for tolerance, love and the spirit of selflessness. Let us pray to God's intervention in restructuring Nigeria .
Let us ask God to empower us to be role models in our families, work places, associations and unions where we belong and to the Society at large. Let us pray for the repose of the souls of those that lost their lives in the Nigeria/Biafran war, the victims of Boko Haram insurgency, and the victims of the recent killings in the Southeast. May their souls rest in peace. In our sober reflection , let us think of what we can do to help those suffering around us , Let us use our wealth to site Industries, and start businesses that can create jobs for millions of Nigerians.
Our future is in our hands. Let us start today to think of what we can do to put smiles on other people's faces, let us think of what we can do to rebuild the economy of Nigeria .
May the Lord help us to realize our set goals.
Happy Independence Day to all Nigerians. From The Nigerian National Association The Netherlands (NNA-NL)