RETIREMENT EXCITING IF PLANNED – NNADI, OUTGOING NASB CEO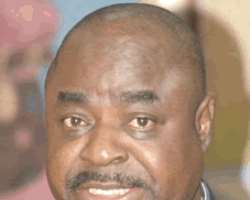 Godson
After nearly three decades at the helm of affairs at the Nigerian Accounting Standard Board (NASB), its Executive Secretary and Chief Executive, Mr Godson Nnadi will be stepping out of office on November 3, 2010.
He nurtured and brought so much glamour to NASB, a Federal Government parastatal that started as a private sector initiative over 26 years ago. In this interview, Nnadi took a retrospective look at the formative years of a board that is charged with the responsibility of developing accounting standards for public and private sector institutions and concluded that it has been a challenging and exciting era.
According to him, the NASB under him had issued over 30 accounting standards from only four he met when he came on board, while it has prepared the nation to adopt International Financial Reporting Standard.
Excerpts:
Years at NASB
I must tell you it has been an exciting time at NASB. It is like you have a new baby and you have watched this baby grow over a-20 year period into an adult and I believe nothing can be more satisfying than that. When I joined NASB, we were occupying two rooms at ICAN Secretariat with only 4 staff.
I was the only technical staff and that was the situation till 1993 when I got a young man from Benin to join me in the technical department. Over these years we have worked together to grow the organization and I am happy to say that he is still with me at the moment.
Again I want to say that today NASB has become a well respected institution in the country and the world. I must also say that we are a leading accounting standard issuing that is known across the world.
But that is not the most important thing anyway because when I look at NASB today I see it has matured to the point that if I leave my office today and walk away, I would not have any fears that it would continue to grow.
We have a lot of people in the organization who could be making big money in any part of the world but who have remained committed in NASB for the love of fatherland and not because they are receiving competitive pay..
So I would say that these 20 years have been great.
Any unfulfilled dream
Part of the dream I have which I believe before I leave on November 3, 2010 would be fulfilled is to see Nigeria adopt the International Financial Reporting Standard (IFRS) and the National Assembly passing the Financial Reporting Council Bill.
These are dreams that are realizable in the short term. But the dream that looks long term to me is seeing the NASB get its own office accommodation either in Lagos or Abuja, because at 26, and 18 years after it became a Federal Government parastatal, NASB is still renting an office space. I think it is something that touches my heart in a very special way and it is for me a matter of regret which I hope would be corrected soon.
FRC Bill
That is what I said earlier was part of my dreams. But I am glad that some of the legislators who traveled with us to Malaysia and London are now better informed about the matter that they can't wait for it to come because of the enormous benefit it holds for the nation. I am optimistic that the National Assembly will pass the FRC Bill in the life of the current administration.
Enforcement of NASB standards
One issue I think whoever would succeed me must endeavour to address is that attracting more technical staff to the board. I had tried with limited success to do that but I tell you it is not easy.
Today, we have just 12 technical staff, who are inspecting all the companies in the country using our standards. So I should say that whoever succeeds me must focus on manpower development, though I must tell you it is not going to be easy because manpower development means he will be competing with banks and oil companies that are paying very well.
At the moment, more than half of our technical team have masters degree in accounting and finance and most of them have alternatives where they can get better remunerations. So what I should advise the government to do is to go to Wages and Salaries Commission to approve a substantial amount of money to be paid to staff of parastals like NASB to make them stay on the job.
For instance, our inspectors face very serious risks because when you inspect an institution and go public with the information, that organization can hurt you. If they can't hurt you that way, they can lure you with huge salary and tell you to leave NASB. I think Salary and wages Commission will be doing this country a lot of good if it can approve a special salary scale for staff of NASB just to ensure they stay on the job.
You know the importance of the job that we do.
How to make banking sector strong again
My take is that the regulators must come together and speak with one voice, by not giving any bank an opportunity to shop for regulation. By that I mean that they should be firm on regulation and enforcement of standards. No bank should get a fairer treatment than the other because they are operating in the same environment and should be treated equally.
For instance it is not always good to banks to be running from one regulator to the other to get less string standard. It is like what happens if NASB issues a regulation that a bank feels is too strong, goes to the Central Bank to get a less stringent regulation and then compromise the standards of the industry in the process. So it is important that the regulators must speak with one voice in matters relating corporate governance and other matters.
I am convinced that once the operators see regulators speaking with one voice, they will definitely sit up because when you talk about banking you are talking about cash, it is a volatile area and opportunities are there. But there is also the will in abundance for people to do the wrong thing.
The attraction is high but if you notice that you cannot escape regulation, the tendency is that you will think twice before doing the wrong thing.
So if the regulators can come together on a consistent basis to enforce regulations, not the usual once in a year or quarterly stuff that we see in the current dispensation, then compliance is bound to improve in the banking industry.
Any regrets ending the career at NASB
I have no regrets at all ending my career at NASB, because my job as a University lecturer matches so well as Chief Executive of the board. For instance, the transition was so natural. I was a senior lecturer in the university and when I came to the NASB as CEO, I didn't have a need for any adjustment because the first assignment NASB CEO must do is to moderate the technical department.
This means that you must be academically sound in accounting otherwise you won't be able to supervise the technical staff. I would therefore say that my job at NASB and at the university were almost the same.
The only thing I would say is that I would not exchange that experience for anything in the world.
Perhaps you might not know that I left the Central Bank of Nigeria to teach at the university, which is my area of attraction. At the university I was teaching and researching which is also part of what we are doing at NASB.
I am teaching and researching because I spend a lot of my times addressing seminars and workshops, explaining things to student and lecturers. So it has been one single career from the university to NASB and I wouldn't exchange it for anything in the world.
Remembering you after your exit.
I want to be remembered by what I have achieved or I have tried to achieve.
When I came to the NASB for instance, we had eight accounting standards, but today we have 30 accounting standards and we nurtured the board and prepared it to adopt the International Financial Reporting Standard.
We are on the verge of passing the Financial Reporting Council under my watch. I met only 3 staff at NASB when I joined but today we have a staff strength of over 60. Again before I came not many people knew NASB but today it is a household name in Nigeria and outside the country.
So I think you can only remember me by the things that NASB achieved under my watch.
Life after retirement
My thinking is that I don't have to be in government or in employment to serve Nigeria.
If for instance by the time I leave office I start trading and selling anything, I can assure you that the day I open my shop I would be employing at least 3 people. That will be a big contribution to the economy of the country.
So I am not going to pin myself down to anything because I know I have academic streak in me that could enable me to teach at any level. I could also go into trading because I believe I can do well there.
I also think I can serve this nation well by setting up a small scale business that can create employment.
However, if I am called upon to serve the country in any other capacity officially or formally, I will be delighted to do that because I believe I am strong enough to render service.
Retirement
I think that issues of retirement should be seen as a thing of the mind because if you wake up in the morning and discover you have no where to go, you have to prepare your mind to accommodate it.
If you lucky and you are not under much financial pressure to make tonnes of money, it would quite exciting seeing life in retirement.
I believe I will enjoy life in retirement because as I speak to you now, my youngest son is a graduate and so I may not be under intense pressure from anybody. So what I and my wife will eat during the period will be provided by God. Again I must advise that when people are still in service, they should not put their hands in things they would not be able to sustain when they retire.
The fact that I headed the NASB for this long did not mean I have to go and rent a duplex in Ikoyi or Victoria, when I know that on retirement I may not have the money to sustain that lifestyle. By the grace of God I can say I maintained a modest lifestyle all through my career and for me not much would change when I leave on November 3, except that I would not be rushing out early morning to the office anymore.
So it is a thing of the mind which somebody must prepare for before it comes.