Open Letter to President Kim Jong - un of Democratic People's Republic of Korea (DPRK)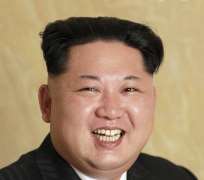 President Kim Jong - un
Democratic People's Republic of Korea (DPRK)
Pyongyang,
North Korea.
Dear Mr. President,
Grace to you and peace from God Our Father and from the Lord Jesus Christ.
I have to thank God for giving you the grace to become the president of North Korea. It is not by your power, but the grace and power of God.
Mr President, the world is disturbed about your constant missile test. I want to implore you in the name of the Lord to put a stop to this nuclear test. Whatever nuclear power you have acquired, please use it in furtherance of food production and meaningful development like, electronics, vehicle manufacturing etc, like Japan, China and other Asian countries.
The world will love to see you in that area than the accumulation of weapons of mass destruction. The world needs food, shelter, good health, peace rather than war. Whoever started this nuclear weapon build up in North Korea, is not a matter of discussion here, but I believe you can use your good office to put a stop to it and channel everything to a better development that will reckon you as a man of peace. There's is an adage that says, when two elephants fight, it is the grass that suffers. We should not forget the innocent children whom we want to suffer. Posterity would never forgive us if through our own mistake if the whole world or a section of the world is destroyed.
I thank you for the step you want to take to stop these constant nuclear tests.
I am grateful for your love and cooperation.
Thanks and God bless you,
Yours in His Service,
Pastor John O. A. Adedeji,
Lagos, Nigeria.