South East Situation; Bauchi Imam Urges FG To Take Urgent Measures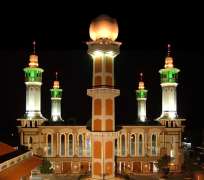 Chief Imam, Jodan Friday Mosque, Kofar Dumi Quarters in Bauchi metropolis, Alhaji Rabi'u Shehu has appealed to the Federal Government under the leadership of President Muhammadu Buhari to halt the waves of ugly insecurity scenario in the Southeast currently posing danger signal to the corporate existence of Nigeria as an indivisible country.
Imam Rabi'u Shehu in a Friday sermon yesterday, stressed the need for urgent measures to arrest the insecurity threats that have in the past few days led to the massacre of innocent citizens and property worth millions of naira either destroyed or carted away before the situation brings an end to the corporate existence of Nigeria.
The scholar noted that should other parts of the country react to the barbaric treatment being meted to their people, tribe or faithful, Nigeria would have by now been on fire with virtually each and every citizen becoming a refuge in his or her own country.
"I wonder why for the simple fact that you were either a Muslim by religion or Hausa by tribe that you will be treated as non-persona grata in your own country. This act of lawlessness is unbecoming of every peace-loving citizen", Imam frowned.
He therefore urged the federal government to ensure the security of lives and property of all citizens, especially those that were forcefully made refuges in parts of the Southeast Nigeria where the propaganda for breakaway is being amplified.
He therefore called on President Muhammadu Buhari to act swiftly with a view to bring to an end the imminent catastrophe, and urged all Nigerians be they at home or in diaspora to fervently pray for the peaceful co-existence of the country.
The Imam also urged citizens not to take law in their hands and should wherever they find themselves be law-abiding and report any abnormal movement or behavior to the appropriate security agency for necessary action.