Anxiety As Nnamdi Kanu Backs Out Of Dialogue With South-East Govs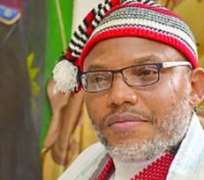 Leader of the Indigenous People of Biafra, Nnamdi Kanu, on Wednesday backed out of planned talks between the secessionist group and the South-East Governors Forum.
The IPOB leader had met with the governors at the Enugu State Government House on August 30, and both parties agreed to hold further talks to seek an amicable resolution of issues raised by the pro-Biafra group.
Another meeting was scheduled to hold between Kanu and the governors on Friday, September 15, but, in a statement he personally signed, which was made available to journalists, the IPOB leader said he would no longer continue with the talks.
He blamed the development on an alleged plot by soldiers to assassinate him while on his way to the meeting with the governors.
He also disclosed that he was currently attending to his injured and bereaved followers, who had fallen victim to attacks by the military in the course of the ongoing 'Operation Python Dance 2', launched by the Nigerian Army in the South-East.