Mark Hughes replies Jose Mourinho, says his Stoke comments an 'easy swipe'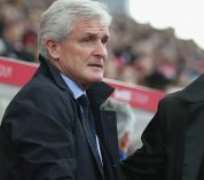 Stoke City boss Mark Hughes said Jose Mourinho's comments about his side's style of play after the 2-2 home draw with Manchester United on Saturday were an "easy swipe."
It was the first time United had failed to win in the Premier League so far, and Old Trafford manager Mourinho did not shake hands with Hughes after the match.
Mourinho later said it had been the kind of game in which the absent Marouane Fellaini's physicality was needed — a suggestion that rankled with Hughes.
"That's just an easy swipe at us, really," the Stoke manager said. "You could argue United played more long balls — and why wouldn't they, because they've got power and pace, and if they can get those players ahead of the ball with good accuracy they've got pace and power to burn.
Hughes Mourinho handshake 170910  Getty Images
"So I don't know what the stats are but I'd argue that in general play they played more long balls than we did because they've got that threat and that's what they try to exploit.
"I think it's a bit lazy of people to keep on reverting to that 'Stoke are a physical team' thing.
"Goodness knows we had too many free kicks against us, but that wasn't because we're a physical team, it was because the referee misinterpreted too many things, in my view."
Hughes said his team — and their style — had changed from Stoke sides of the past, adding: "This is my fifth season, and since we've changed we've had better success in relative terms and in terms of league position.
"We're trying to be better. We slipped back to a certain degree last year and we don't want that to happen.
"I think we're 10th after the games today and that's where we see ourselves. We're a top-10 side, in my view, and we've just got to prove it this year.'