Nwanneka Ekweremadu: Toast To A Worthy Matriarch @ 51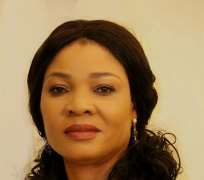 The life we live is history writ large. Among the Igbo, it is often said that the birth of a child is the manifestation of divine favour upon the family. It is even more instructive if the child's birth coincides with remarkable historical events. And so is the case of Dr. Mrs. Nwanneka Ekweremadu, wife of Nigeria's Deputy President of the Senate. September 10, 1966 is a remarkable day in history. On this day, while the Queen of England regaled in her queenly court yard, while the Beatles were celebrating the remarkable success of their hit track "Revolver", while Muhammad Ali was jumping for joy after knocking out Karl Midlenberger, while the famous actor, John Lithgow was walking down the aisle with his heartthrob, Jean Taynton and while Germany was bowed in grief at the death of the great mathematician and pacifist, Emil Gumbel, a modest house in Umuori hamlet, Enugu-Achi in present day Oji-River LGA of Enugu State was battling to give shelter to a new born baby girl.
Given the many experiences preceding the birth of the child, the parents, Chief John and Lolo Monica Okah decided to give the child the fortuitous name- Nwanneka, meaning "siblings are supreme and of inesteemable value". Our people always say that you know the ripe corn with your eyes. From her childhood, Nwanneka left no one in doubt that she was a destined child. She was growing into a beautiful damsel, which was complimented with superb intelligence. She was a likeable child and her beauty illumined her sorroundings with verve and intensity. She was a charming child and there was a commanding aura around her that drew people to her like a magnet.
What is in a name, you may ask. Very often the first piece of information we have about a person is his/her name. Names are markers. They not only identify who we are; but also whose we are. In life, we see people live their names, while others fail to do so. As a name, "Nwanneka" espouses the great importance of filial ties and family bonds, which is the bedrock of Igbocommunal society. In deed, the name epitomizes Mrs. Ekweremadu'slife, her towering stature notwithstanding. As wife to the Deputy President of the Senate, she has been excellent depicting the Biblical assertion that a virtuous wife is more to be treasured than ruby. She has been a pillar of support to her husband, a prayer warrior and homemaker. She has been a good sister, mother, friend and confidant to her husband. To outsiders, she has brought her beauty and charm to bear. She has welcomed all to her home with open arms and friendly mien, demonstrated immense sense of compassion on the down trodden and carried herself with disarming humility and conviviality. In a manner of speaking, Mrs. Nwanneka Ekweremadu is the archetype combination of beauty, brain and spirituality.
In addition to her many qualities, Mrs. Ekweremadu is also an accomplished academic. She attended St Patrick's Primary School, Ogbete Enugu and Idaw River Girls' Secondary School, Awkunanaw Enugu.She is also a product of the prestigious Institute of Management and Technology (IMT), Enugu, as well as University of Nigeria, Nsukka and Ebonyi State University respectively. She holds the Bachelor's, Master's and Doctorate degrees. At the professional level, Dr. Mrs Ekweremadu taught at Federal Government College Enugu and Federal Government College Appo, Abuja before joining the Office of the Accountant General of the Federation where she is presently serving.
The Bible declares in Proverbs 14:1 that "every wise woman buildeth her house; but the foolish plucketh it down with her hands". Dr. Nwanneka Ekweremadu has demonstrated her wisdom in building her home and being a committed co-labourer in the Lord's Vineyard. An excellent wife, who can find? For her worth is far above jewels. The heart of her husband trusts in her, and he will have no lack of gain (Proverbs 31:10-11). Dr.Mrs. Nwanneka Ekweremadu has proven that she is indeed a solid pillar of support to her husband. She has shown great candour and commitment in managing her home, her official duties and dealing with the huge demands from her husband's vast political field, which stretches beyond Enugu State. She is literally the moving force behind the Ikeoha Foundation - a Non Governmental Organization powered by her husband, Distinguished Senator Ike Ekweremadu. The Foundation has given new meaning to the lives of innumerable number of women, widows, and youths through scholarships, vocational trainings, poverty alleviation, adult literacy programmes, quiz competition for students etc. Her immense support to her husband buttresses the saying that "behind every successful man, there is always a prayerful and intelligent woman".
Indeed, she is the modern equivalent to the biblical Esther, a woman of great beauty, astounding courage and commendable humility. Evidently, it is common for most ladies married to the high and the mighty to "assume undue airs" thereby looking at those not in the same social strata as themselves with condescension. This is surprisingly not the case with this woman of power and panache. Everyone that comes in contact with her attests to the milk of human kindness flowing abundantly from her soul. Due to her firm belief in stable homes as the foundation for social cohesion and national unity, she has initiated processes aimed at mentoring the wives of her husband's aides and other women around her especially in the church.
We are privileged and honoured to be associated with this woman of history who has infected all around her with her goodness, patience, humility, intelligence and kindness. A quintessential mother, God has blessed her family with four lovely children- two boys and two girls. As we mark the birthday of this epitome of womanhood, we join our principal and all men and women of goodwill in exaltationof God for this uncommon gift to humanity. Ikeoha Ndigbo, we heartily toast to the greatest of your blessingsconquests and the finest of your garlands; as we say "Happy Birthday to Lady Nwanneka Ekweremadu, Ph.D." Congratulations!!
Courtesy:
Aides of the Deputy President of the Senate,Federal Republic of Nigeria