2019: Delta Central Senator Gets Market Women Endorsement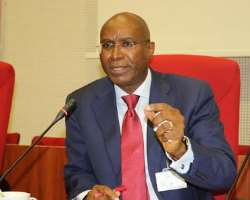 Following the massive empowerment the Senator representing Delta Central at the National Assembly (NASS), Senator Ovie Omo-Agege, has carried out in his constituency and his visibility in matters affecting the senatorial district, market women in Ughelli have thrown their weights behind his re-election come 2019.
Senator Ovie Omo-Agege who recently went round the eight Local Government Areas of the district to empower traders and Okada riders, has gained the women confidence hence according to them, they are giving him their support to enable him win and continue with his good works.
The leaders of the Market Women Association, Mrs. Charity Imere, said they have promised to sensitize and mobilise their husbands, children, relatives and friends to support the re-election of Omo-Agege, urging him to prepare to go back to the Senate come 2019.
Mrs. Imere, a trader also disclosed that the Ughelli Main Market has assumed a new air of hope since the historic empowerment visit by Sen. Omo-Agege, stressing that the empowerment brought relief, not only to traders in the Ughelli Main Market but to many homes and families.
Stressing that the market women are so happy and appreciate the Senator's gesture, emphasizing that, "even a pregnant woman in the market has vowed to name her child after Senator Ovie Omo-Agege."
While assuring the Senator of their support, she stated that Omo-Agege need not come to Ughelli for campaigns for his re-election come 2019 and instead, go to other parts of the district to campaign.
Mrs. Imere said the market women are not just excited because of the monies given to them as empowerment but that they were moved by the Senator's humility as displayed in his decision to personally come down to see and have a handshake with the women and the common people.
"We have not set our eyes on any government official like this, not even a Councillor has come to us before now, not to talk of a Distinguished Senator, so, his physical presence alone matters so much to us."
She added that all they are used to are top government officials who come with sirens to intimidate them while driving through the market and most times have their security details flog the traders along the road.
According to her, it is only when it is about two weeks to elections that majority of the politicians do come to the people "and that is when we see them spraying token on the road and after that they disappear till another election."
"Please tell Senator Omo-Agege not to bother come to Ughelli Market for campaign, because he has proven to us that he is true a politician that have the interests of the people at heart and we are happy for the good works he is doing, especially in redeeming his campaign promises made during the 2015 election", she said.
She maintained that the women are ready to work towards Sen. Omo-Agege's re-election, to the extent that they will not be swayed or convinced by any other person not to work for the Senator, saying "we don't even want to see Okowa and his people with their money because Senator Omo-Agege has written his name in letters of gold in our hearts through this historic visit and empowerment, which we have not seen since I was born."
Continuing, she declared that "Senator Omo-Agege is our choice in the Senate until when he is tired before he leaves that position. Come 2019, Senator Ovie Omo-Agege is our choice and he is the man we need because we are happy and God bless our Senator."