OBAZE:...Before a Dog Visits the Butcher...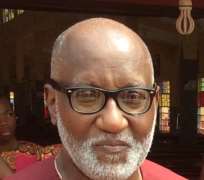 Wonders shall never end. They have come again with basket of lies trying to burnish a man we all saw first hand. An average civil servant whose greatest claim to fame is ability to seat as Manager in the Security outfit servicing the United Nations office. Pray, why are the dressing this man OseLoka Obaze in over-sized robes just to justify the lust for power and control by a neo-godfather.
First, they demanded that he leaves his beard to give him a distinct look of an old sage. But we know him. Yes, we know him. He worked in Ministry Of External Affairs years back. That was his greatest claim to being a diplomat and not his sojourn in New-York as an economic migrant like most of us. Diplomat? Damn, who dunnit? I know he was a contract staff. Yes, they are the guys who check the halls before the real DIPLOMATS File-in for meetings. Well, that was before the neo-gofather brought him back to check -mate his brother,yet dumped him when it mattered most. As a fellow PDP member, I am worried that the makeover might disfigure our candidate beyond recorgnition and appreciation of the people.
I don't want to talk about his personal failings and work relationship issues yet but I can see what they are doing now. The have started dressing him in over-sized robes courtesy of the neo-father in readiness to dump on Ndi Anambra. Here them: Diplomat! Technocrat! 'Akeredolu', General....I laugh out loud.
I know this man. He is not what they want you to think. His handlers should present him for his real value so that he will be appreciated for who he is. Anambra beware!
Disclaimer:

"The views/contents expressed in this article are the sole responsibility of

Udumotali Onyekachi

and do not necessarily reflect those of The Nigerian Voice. The Nigerian Voice will not be responsible or liable for any inaccurate or incorrect statements contained in this article."