The Nigerian Voice (TNV) felicitates with Hameed Oyegbade on his Award of Excellence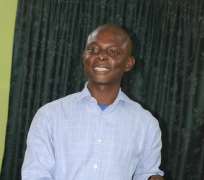 The entire staff of The Nigerian Voice, (TNV), felicitates with the Osun State Correspondent of Daily Trust newspaper and the Chairman of the Correspondent Chapel of Nigeria Union of Journalists, NUJ, Osun branch, Prince Hameed Oyegbade on his recent Award of Excellence.
The Nigerian Voice congratulates Prince Hameed Oyegbade as a friend of the medium and a very amiable and hardworking journalist who has played a major role in Osun state and the nation at large through his unbiased reports. In the congratulatory message, the Managing Editor of The Nigerian Voice, Mr Henry Oduenyi stated: "....in extending our warmest congratulations to you, we must state that this meritorious award bears testimony to your identification with hard-work, dedication and humility to journalism in Nigeria....."
Prince Hameed was honoured with the award by the Congress of Nigerian Youth, Osun State chapter in recognition of his contributions to the society and youth related matters.
The Coordinator of CONYO in the state, Amb. Taiwo Adedayo had presented the plaque of the award to Prince Hameed Oyegbade at the secretariat of the Osun NUJ Correspondents Chapel in Osogbo, Osun state capital on Thursday.
In his brief remarks, Adedayo said the group carefully selected the recipient and that the honour was based on merit. He urged Prince Hameed Oyegbade to see the award as a challenge to spur him to do more.