COMMUNICATE WITH NIGERIANS, PRESIDENT JONATHAN GOODLUCK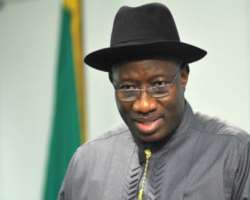 PHOTO: PRESIDENT GOODLUCK JONATHAN.


One of the qualities that stood John .F. Kennedy out amid peers and futuristic leaders, is his simplicity to communicate without condescension – both to his citizens and other international players. The former United States President took the carrot diplomacy to another level during the U-2 palaver in 1960. That year, Russian shot down an American spy plane in her territory and arrested Gary Powers, the pilot. Kennedy regretted the incident and negotiated amends with the Soviet Union since the US did not take permission to enter Russia's territory.
Jonathan should come down from his high horse and humble himself by telling Nigerians what is the matter with his wife Patience Goodluck, since she loose-footed to Lebanon and landed in Dubai hospital. He should talk to Nigerians. These are the same Nigerians that pay the president's salary and may be, vote him if he chooses to vie in 2011. The president should stop behaving as if, ordinary Nigerians no longer matters. Most of us shared his grief when politicians and senior civil servants in Abuja refused to empower him to take over as acting president.
We had sleepless nights and watched with sadness as PDP mistreated Vice-President Jonathan to the extent that his co-Niger Delta hustler had attempted to make late President Yar´Adua drop Jonathan as Veepee and make him his 2i/c. The supports and sympathies meted the president from mere Nigerian mortals are not being reciprocated. The president is now rolling deep in the big boys club. That ordinary Nigerians are being pooh-poohed as playthings, lowlife and godforsaken by Jonathan´ body language and total disposition. The president has opined that the progress of his government rested upon the support from senators and not the masses to which power belongs. That is how sad things have become.
The ordinariness and selfless humility, which JFK represents, has not been forthcoming from Jonathan Goodluck in the aftermath of swearing him in as President. The positive torrents of nonsense that outpoured from Patience Goodluck´s sympathisers over her underhand travels is an odometer for idiots who sought the cheap thrill of impending doom. Should Patience Goodluck ape Turai´s hanky-panky full hog before we say: how shall again? Turai could have used chemical weapon on Nigerians in her desperation to perfect her clandestine underhand as Saddam Hussein did to his Iraqi people. That was how they told us that the Yar´Adua people are a modest, socio-centric family until we had dysfunctional corrupt out-of-control freaks of Katsina family in our hands. 
I don't want to detail now the enormous condescension of posterity with which the Jonathans apologists and sycophants overhyped their Dame Mrs Goodluck in a manner approaching sainthood with oversize First Lady Title and suchlike. Handlers and minders of higher-up officeholders should be schooled how not to mystify their employers. Jonathans undoing would be to buy into tirades of professional wordsmiths who praise every president for cheap personal rewards. Pride, they say, goes before the fall.
The whistling and shouting that greeted Patience's hurried journeys was a carryover from Turai´s misdoings. Our outrage is very right on cue. We must stop further president's wives from copying the mammalian and animalistic outing Turai careered upon as First Lady. Her barbarian display, hide and sick game of starving Nigerians with information of our late president's ill health is still very raw in our senses.  Turai´s wrecked our collective psychology as nation. Patience Goodluck should pump that break; she is making her ways too easy to Lebanon and Dubai. Where and when next is the next knock-about and President's family goof?
It's high time president Goodluck gets out of the Machiavellian picture he has stocked up in, with ex-presidents Obasanjo and Babangida. He should remember that he's a 21st century president in a democracy and not a Prince in Machiavellian era.  Machiavelli with no small sycophancy had encouraged the Princes of his domain and others in that bygone era to go on, be the macho, and use the big stick to silence their citizens always. Never mind that he was under Princes' payroll. The Princes must never talk softly before their citizens Machiavelli opined. It was only the big stick carried with so much testosterone and masculinity that makes ends justifies means howsoever quickly, he told the Princes.
The more reason president Goodluck should steer clear from OBJ and IBB is that they're living in past era of princely aristocracy. It was a lot of nonsense reading IBB the other day makes comment that leaders only accept their mistakes without apologising. Jonathan seems to have bought into that silly nonsense of macho leadership. In today's leadership literature, there is time to carry the big stick and time to talk softly. Leaders do apologise to their peoples and other internationalists thanks to John .F. Kennedy. Communication with Nigerians is core if Jonathan must make headway. An open door policy should be preferred, superimposing upon the Yar´Adua secrecy and illegal official oath taking that cursed him and his regime so much.
Sunday Njokede writes from The European Union. [email protected]
Disclaimer:

"The views/contents expressed in this article are the sole responsibility of the author(s) and do not necessarily reflect those of The Nigerian Voice. The Nigerian Voice will not be responsible or liable for any inaccurate or incorrect statements contained in this article."
Articles by thewillnigeria.com