The State Of Auchi Polytechnic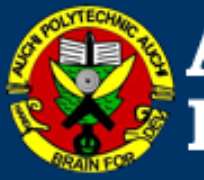 Auchi polytechnic Auchi, Edo State, which used to be an enviable citadel of learning, is now a mere shadow of its former self as it is now cascading speedily into its early Golgotha.
Intimidation, vindictiveness, witch hunt and threats to lives and job, is now the order of the day. Academic freedom has been replaced with insecurity of lives and properties, just as staff, students and other stakeholders now operate under siege and palpable fear.
The arrival of Dr. Sanusi Momodu Jimah, Acting Rector of the institution, has plunged the once buoyant and viable institution into dungeon such that if urgent and drastic step is not taken by the federal government and other stakeholders, the institution will soon be history.
Reports and evidence abound in the public domain that the Acting Rector took 14th position in the interview that was conducted to fill the vacant position of Rector in the institution. He obviously was not among the first - three candidate who made the short list, but was smuggled in through the back door, an act which is setting a bad precedent educational sector and Nigeria in general.
Academic staff (qualified) have been replaced with Higher National Diploma (HND) Holders, who are now in charge of teaching, project supervision and other academic related activities, as the Acting Rector runs the finances of the institution, including the acquisition of goods, works and services like his private business, without recourse to due process.
Auchi polytechnic Auchi is now a glorified Secondary School, where academic standard is now at its ebb.
This outcry is to enable the ministry of Education and other stakeholders to as a matter of urgency, appoint a substantive Rector for Auchi polytechnic, with a view to saving the institution from the ugly claws of Dr. Sanusi Momodu Jimah.
This is a distress call.