Oshimili South Council Boss Count Achievements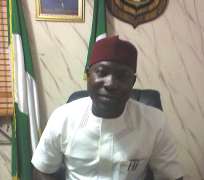 Barely three months to the expiration of the tenures of council chairmen in Delta State, Chairman, Oshimili South Local Government Area of the state, Barr (Pst) Chuks John Obusom has rolled out the achievements of his administration in the last two and half years.
The council boss reeled out some of his achievements Wednesday when leaders and members of the Indigenous Correspondents' Chapel (ICC), of the Nigeria Union of Journalists (NUJ), Delta State Council had a media parley with him in his office.
The chairman who assumed office, October 2014 disclosed that he was able to develop a reformed model for the identification of indigenes of the council which has been infiltrated by some persons from across the Niger.
"We have been able to establish a thorough and a reformed way of identifying Oshimili South indigenes. Before I assumed this office, so many people from across the Niger, you see them flouting identification letters. This has made us not only to loss crucial positions in terms of employment. Even outside here, in the military and other places, some people have gone there using Oshimili South slot", he revealed.
He noted that several things actually went wrong in the identification process, "so we reformed that process. I personally signed identification letters and I will screen you, if I need to make calls, I do and of course before you have my identification, you must have established that you are from Oshimili South. I was able to write to the ministries doing the screening. If you don't have anybody with my own signature don't honour it", noting that the move has yielded positive result.
The chairman pointed out that the step has taken care of non-indigenes who masqueraded as indigenes of the council area, "I think that is a reformatory step".
Pastor Obusom also disclosed that the Internally Generated Revenue (IGR) of the council which lacks organization when he assumed office was properly harnessed, "we did what is called enumeration, trying to identify our revenue sources and then we discovered also that there is need to have a revenue bye-law as there was no one that was effective then. And after that we set up a system of revenue collection where revenue that are been generated is channeled to the banks, there is no cash collection, any cash collection is illegal", stressing that, "we tried to dissuade self-help in revenue collection. When they use taskforce to molest people here and there which to me as a lawyer is unacceptable and we have to make sure that people are tried through due process to ensure that they have been served and we will now use a judicial process to be able to get our revenue".
Other successes Barr Obusom reeled out includes: removal of revenue courts from rented apartments across the council which according to him led to the erection of a gigantic revenue court in the council premises, "I have tried to check, I have never seen a local government council in the 774 LGAs in the country that built a revenue court", bought a 13KVA transformer to end about three years blackout in the secretariat, make the environment conducive for workers, started poultry farm with 2% allocation which the law requested of the council to set aside for agriculture, "we have just finished disposing some of them and we want to start stocking for the Christmas period".
He added that the council was able to partake in the grading of the out-roads with the fixing of the tractors to sand fill some roads that need attention with particular reference to the Oko area in spite of the financial down turn, "on assumption of office also when we had SURE-P, we were able to get farm seedlings; okro, yams for the farmers at the Oko area to boost food production and we were able to construct and commission Ogbogonogo Mini market with over 300 shops (lockup and open shops)".
Earlier, Chairman, ICC, Comrde Barth Ozah, commended the council chairman over his leadership ingenuity which he brought to bear in the administration in the council.
Comreade Ozah urged him to always engage the community media who are in the better place to enlighten the populace on the programmes and policies, "especially, regarding the successes you have recorded as well as your views on critical issues".