UNIOSUN medical students in Ukraine return home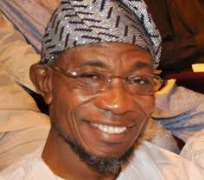 Thirty-five of 85 medical students of the Osun State University who were sent to Ukraine University for medical studies by Governor Rauf Aregbesola's administration have returned to Osun.
The medical doctors checkout at the Arrival post of the Muritala Muhammed Airport, Lagos few minutes past 9pm on Saturday night and were received by a state government delegation led by the Commissioner for Innovation, Science and Technology, Engr Remi Omowaiye and Special Adviser to the governor on Higher Education, Bursary and Scholarship, Prof Grace Akinola.
They returned home after graduating from the V.N. Karazin Kharkiv National University, Kharkov, Ukraine and certified as medical doctors.
About 15 of the medical students stayed back in Ukraine for future pursuit.
It would be recalled that 50 of the 85 UNIOSUN students recently graduated and were inducted as qualified medical doctors after passing the 2017 KROK 2 Ukraine National Medical Exams June this year.
The UNIOSUN students were sent to Ukraine by the Aregbesola's administration to complete their medical studies in Ukraine in 2013 as a result of non-availability of teaching hospital for their clinical studies.
One of the medical students, Miss Latifat Abiola Oyeleye was declared the over best medical student of the Karazin Kharkiv National University as well as the 2017 overall best students in the entire Ukraine with an outstanding score of 95.6% in KROK 2 Exams.
Receiving the young doctors at the Government House, Osogbo, Aregbesola welcomed them and urged them to let their skills, knowledge and education speak for them.
Aregbesola explained that sending the students to Ukraine was not about nationalism but about justice and fairness, stating that the students were admitted for medicine and it behoved the university and government to fulfill their obligations.
He said: "We had advertised the medical course and admitted the students, it is the obligation of the government to see the students through the program. Human being will only succeed when he upholds justice and fairness. So, what informed our decision on this students is justice and fairness.
Aregbesola who said education is not about one discipline but about having skills, motivation and knowledge, said he was happy and proud for the success in their academic program.
The governor urged the young doctors to be professional, humane and Godly in discharging their duties in hospitals and everywhere they find themselves.
In their remarks, the students attributed their academic success Aregbesola's commitment to promoting functional education and concern on their plights when they were stranded in UNIOSUN.
They promised to embark on service to humanity and give back to the community, particular Osun state in appreciation of their free medical studies.
Oyeleye, the overall best students said: "I am one of the beneficiaries of Aregbesola's gesture, I am one of the 85 medical students sponsored by his administration to one of the best universities in the world.
"We have studied and graduated. We thank God that today, we have been made medical doctors through the support of Osun Government. It is a dream comes true for me and my family.
"Osun Government has made history through this, Governor Aregbesola has done excellently well in our lives to attain this giant feat in academic because if not for him, we might not be celebrated like this today."
Another beneficiary, Dr. Oluwasayo Motunrayo said, "I will forever be grateful to Aregbesola for making our dreams come to pass. He has done well to ensure that we did not fail in meeting up with our medical carrier in life."
Ezekoye Maria, an indigene of Anambra state, who is part of the medical students, said: "We had lost hope when there was no teaching hospital to proceed to for out medical studies at UNIOSUN, we were all stranded.
"But Governor Aregbesola restored our hope, he made us realise our dreams by sending us to one of the best universities in Ukraine for medical studies free of charge. Today, we are certified medical doctors. We are all proud of Osun government."