2019: OKUN LEADERS SHOP FOR DINO MALAYE'S REPLACEMENT, CALLS TEEJAY YUSUF TO CONTEST FOR SENATE SEAT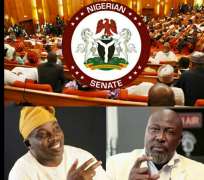 A GROUP under the umbrella body of OKUN LEADER'S FORUM (OLF) has called on the Honorable member representing kabba/Bunu-Ijumu federal constituency, Honorable Tajudeen Yusuf to contest for the seat of senate, kogi west senatorial district in the forthcoming 2019 general elections. The group made the call at a meeting they organised to declare support for Teejay Yusuf in Isanlu of YAGBA East local gocernment at the weekend noted that the call has become imperative considering the development strides of the honorable member in his constituency since his assumption of office in 2011.
President of the group, Dr. Omolade Ojo pleaded with Honorable Teejay not to disappoint the Okun leaders by answering their call without delay. He pointed out that the call was an award the group has for him, insisting that there could be no better reward for the meritorious achievements recorded by the honorable than according him an overwhelming support to represent the kogi west district in the National Assembly. "With the good works of Teejay Yusuf in Kabba/Bunu-Ijumu Federal constituency, it will be totally out of place if he is not appreciated with the senate position come 2019" Omolade solicited for the cooperation of people of the kogi west senatorial zone towards the realisation of the senatorial dream the Okun leaders were championing for Teejay Yusuf.
Earlier, patron of the group, Chief Arowosafe Jemigbon, had appreciated the step taken by the group to pave way for Teejay Yusuf to continue with the good work done in the House of Representatives at the Senate level.
According to Arowosafe, kogi west people could not afford to continue with the leadership style of senator Dino Melaye, who, he said, has turned legislative business to "show of assets" and urged the political stakeholders of the zone to "kick-start the process of wooing Honorable Teejay Yusuf to replace him in 2019. Teejay Yusuf would defeat Melaye come 2019 and it won't be a surprise to us because he has done that in the 2011 House of representatives Melaye's 2nd time bid of where Teejay Yusuf defeated him at both PDP primary and general election when he (Dino) decamped from PDP to ANPP. "
Describing Dino's two years so far as "a total failure and poor representation to the good people of kogi west. As it stands today in kogi west, it has become the more you look, nothing you see. There is no important project going on in our dear district, yet some people go around making questionable endorsements."