CRISES IN PDP NORMAL GAME PLAY BEFORE ELECTION – ORTOM, NATIONAL AUDITOR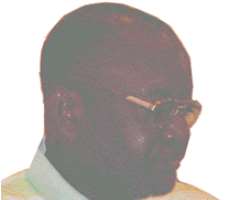 Ortom
The National Auditor of the Peoples Democratic Party (PDP), Chief Samuel Ortom in this interview says the current crisis rocking the party is not new. He describes it as a mere normal game play that usually rears its head when elections are approaching saying it is a way those agitating for one political post or the other try to protect their interest. He also bared his mind on other salient national issues.
Excerpts:
Crises in the PDP
Well, I can simply say that it's a normal game play that is unfolding towards 2011. As you know, politics is a game of interest. And everyone who is agitating for one thing or the other is trying to protect his or her own interest. And as a ruling and the largest party in not just Nigeria but Africa, people are bound to bring several interest together and once they come together like that, they are bound to clash with others, because people think that at the end of the day, once they secure the ticket of PDP, they are as good as being elected into various positions. That is why you hear about all these bickering. So, it is a normal thing for some of us who have been in politics for a very long time. This is not the first time we are experiencing it. We have passed through this several times and this too, we hope to pass through.
The N4 billion indictment on the  exco of the party.
It is unfortunate. We too have made it public and if you have been conversant with our press statements to the nation, we said, we invited Alhahi Dahiru who was the former national organizing committee chairman to come and appear before the National Working Committee and to explain or show us where the N4 billion is, because since we came in in 2008, we never saw any N4 billion anywhere.
So, until he comes, it is difficult for me to say any other thing but we have made it very clear and we publicized in paid adverts the statement of account as we met it. We met N288 million and we have properly given account of what we have gotten. So,  he is going to appear before us on the 5th of May. Until then, we will be more happy because we have so many things outstanding even myself, my housing allowance has not been paid. it's going to be a good news when we have N4 billion coming into our coffers and I believe that he will come and remit the money because we have not seen any N4 billion.
Effect of the current crises on the party in 2011 elections.
I don't think so, because the perceived crises is rather amplified by people who are not conversant with the game of politics. That is the way I view it, because what has happened is not really a problem. People came, not just of them. A group of people came together, some of them are not even members of PDP but they came, they saw PDP as a ruling party and they feel that they want to get themselves associated with the powers that be. And so they came together and some of our members that were identified as at the day we sat in the National Working Committee, we decided to suspend them that what they were doing was wrong. Even if they have suggestions or proposed reforms as they so alleged, they you are expected to follow the laid down procedure in our party.
We have the constitution. And that is what we are saying. If you follow the laid down procedure, your feelings will be made known to the National Working Committee who would pass it unto the National Executive Committee and where it requires the attention of the National Convention, we will summon a National Convention which will ratify such feelings. And not just going and doing this unilaterally. That is what we are saying, it is not allowed. And we strictly follow the provision of the Constitution.
Though, for the 19 people we suspended, the court came in and said we should stop action and as a law abiding party and National Working Committee, we have decided to hold on until we are able to discharge the injunction that was given to this people because as far as we know, we followed the laid down procedure but the court said we should stop. And most of all, they even went ahead to stop us from conducting the National Executive Committee but we were able to discharge that particular aspect that we are still going to contest it in the court because the motion was not on notice.  And so, we are going to contest court and then we will go ahead with the process. And that is not just the end, because for a very long time, our party has been having problems disciplining of our members.
This time around, we have decided to rise up to our responsibility even as we go towards 2011 because we cannot manage a big party like this with everybody coming to do whatever he wants in an undisciplined manner. So, we are strictly going to follow the provisions of our constitution and we are looking forward to even discipline more members. We are not just stopping at these 19 people because as many as are ready to flout the provisions of the party's constitution, we are also ready to discipline them. And that is exactly what we are going to do.
The suspended members has a point but….
What I am saying is that two wrongs cannot make a right. There is a procedure even if you want to amend the constitution as it is today, there is a procedure to follow. But they have not followed the laid down procedure as far as we are concerned. If they have points to sell to the party, they are free to do so as members of the party. If they contribution and some of these people are even members of NEC. So, what stops them from following the constitutional provision and making their points known to NEC?
And of course, the NEC as enshrined in the constitution of the party is the second highest authority in the party. So, if you are a member of NEC, what stops you from going to make your points known to NEC?  Why go to form a parallel organization to fight against the party? This is what we are saying. We are ready to do reforms. And since we came in in 2008, we started reforms. One of the things we said is that nobody is going to have automatic ticket. Several groups approached us that they wanted automatic ticket and we told them that the era of automatic tickets are gone. And we must entrench internal democracy as recommended by Ekweme's committee and that is exactly what we are doing.
And I can assure you that our plans for the 2011 primaries is going to be transparent, free and fair for everybody who is interested in contesting. It is going to be open and everyone would be allowed to participate. And that is why the provisions of the constitution are there, we are going to provide guidelines in line with the provisions of the constitution. Delegates are already coming. Three delegates are going to come from the wards to form an electoral college for the state House of Assembly and House of Representatives, Governors and Senate. And these people plus the statutory delegates that are in place. So, it is not a matter of people trying to do what they want in this party.
I give you an example. When we amended our constitution last year, the National Assembly came with a complaint that from what we have done, a state governor would require slightly above 1000 delegates to form an electoral college to nominate a governor to contest for election. And the man contesting for the senate seat will require an average of 1800 delegates. Then the man contesting for House of Representatives will require about 600 delegates, the man contesting for House of Assembly will require about three hundred. And they came out with legitimate complaints to the National Working Committee.
We looked into it, discussed it at caucus level and at the board of trustees level and we discussed it at NEC and NEC unanimously agreed that this is not being fair because ordinarily one would expect that for senate which is one third of a state, one should have just about one third of the total number of delegates for the governorship. And unanimously, NEC approved that we should hold a mini convention where we would rectify this aspect. So, this is what I am saying. When people come without passing through the laid down procedure and all that, they are indisciplined people and we cannot allow indiscipline in our party.
Between automatic ticket and endorsement
There is no automatic ticket. All these endorsement you hear in papers or radio and all that, those are personal feelings of people. But like I said, the party will bring out a guideline at the appropriate time. And every Nigerian, everyone who is eligible to contest is free to do so even if you are not, you would pass through the process. We have screening committees at various levels, so, we will screen you out if you are not eligible to contest any election. So, we have even written to all our state chapters that it is wrong especially for members of the excos at various levels to adopt or endorse people. It is wrong; it is an offence punishable by the provisions of our constitution. But as individuals, people are free to be associated with anybody they want. They can endorse or do whatever they want. But as a party, it is wrong.
I don't respect zoning
I as a person, if you ask me my own opinion, I will tell you that I don't want zoning. I don't respect zoning. But I am a democratic person and whatever the majority of the people say, i will take it. For me, zoning encourages sycophancy, mediocrity and stooges because you are not able to get the best out of it. And come to think of it, if we are going to practice the presidential system of government as we borrowed it from America , we must go full blast by ensuring that whatever if obtainable in America is done here. We don't have anything like zoning in America . Do we have? You can come from anywhere and you would be allowed.
Obama is a first generation African. But then, because of his worth, because people of America heard that he is capable of delivering, he is today the president of America . And so, if you ask me my personal opinion, I will tell you that I don't respect zoning. There is no point for zoning. Go for the best, elect the best hand that can deliver. That will serve. But as a democratic person, when majority of the people decide on what to do, then, encourage them. And that is why, at the end of the day, whether zoning or no zoning, it is what is obtainable in the ballot box that is more important like we did in 2003 election between Obasanjo, Rimi and Gemade and others that contested.
Zoning is a gentleman's agreement. It is not written anywhere. It is not binding on anybody in PDP. But it's an understanding within members of the party. So, it is not a matter of sending memo but to some people, it is very convenient when you do zoning and instead of wasting resources that everybody is contesting, it limits it to a certain segment of the society. So, it helps controls the system and instead of heating it, it helps minimize the heating of the polity. So, it is not a matter of sending anything for amendment. It has been there. And I think there is no point but gradually, if we must continue in the presidential system of government we should also copy what America is doing.
The status of Atiku in PDP
Our constitution is very clear, and as a party and National Working Committee that believes in the rule of law and due process, we have no other opinion than the opinion of the constitution of our party. Our party has made it very clear that there is no national or state membership card. Everything about membership starts with the ward. The registers are kept at the wards and the membership cards are obtained from the ward. And so, every member of the party or whoever wants to join, including you is free to go to hids ward, get registered and everything takes off from there. But there is a provision in the constitution that where you apply at the ward level and it is rejected, you make an appeal to the state level, where it is rejected, you continue until the National Executive Committee which is the final habitat on matters of membership and all that.
So, it is very clear. On the allegation as to whether it's fake or not, the ward chairman from Atiku's ward will determine whether he got a fake or a genuine membership card. That one is yet to come before the national working committee so, I can't talk about that. But as far as I am concerned, our party registers are open to everyone who is interested in joining and playing the game with us. We are not stopping anybody at anytime. But the constitution took care of issues concerning re-entering into the party. For instance, you loose your privileges. For instance, if Atiku wants to contest elections, he will have to apply for a waiver because he will have to join the queue from behind. It is very clear. There are process, the constitution of the party has taken care of this, so, I don't think there is any problem about that.