NATIONAL INLAND WATERWAYS AUTHORITY (NIWA), STOP THIS ASSAULT ON THE CONSTITUTION, NOW!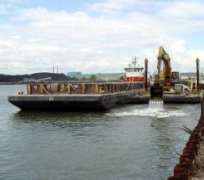 The Committee for the Protection of Peoples Mandate (CPPM) is disturbed and embarrassed by the attempt of the National Inland Waterways Authority (NIWA) to violate the constitution by disregarding and interpreting to suit itself, an unambiguous judgement of a court which is a law and thereby undermine public peace and safety.
We condemn in strong terms NIWA's irresponsible resort to self help, disrespect for the rule of law and instigation of waterways operators to defy an existing law as exemplified in the Court of Appeal judgement of July 18th, 2017 delivered by Justice Hussein Mukhtar who ruled that "It is hereby held that the Lagos State House of Assembly is competent to make laws in respect of the intra inland waterways in Lagos State except the inter-State waterways declared as International or inter State waterways under item 5 in the 2th Schedule to the National Inland Waterways Act".
We are quite aware that this matter of control of inland waterways has been a subject of litigation between the National Inland Waterways Authority (NIWA) and the Lagos State Government as far back as 2008 and culminated with a judgement delivered by the Federal High Court sitting in Lagos on March 28th, 2017, which ruled that "Lagos State had no authority to manage the waterways because such powers fell under the exclusive legislative list".
Dissatisfied with the high court judgement, the Lagos State Government conducted itself responsibly by approaching the Court of Appeal to set aside the judgement of the High Court, of which the ruling was delivered on July 18th, 2017.
Therefore, we are scandalized that instead of focusing on its appeal to the Supreme Court against the Court of Appeal judgement on the matter of which the date of Sept 18th, 2017 has been fixed for hearing, the National Inland Waterways Authority (NIWA) has taken the illegal and unconstitutional steps of undermining public order by attempting to usurp the functions of the judiciary which is an illegality.
In view of the above, we at CPPM are hereby calling on NIWA to refrain forthwith from its assault on the constitution and await the judgement of the Supreme Court on its appeal, failure of which they should be held responsible for any breakdown of law and order on our waterways in Lagos State.
Thanks.
Yours Sincerely,
Nelson Ekujumi,
Executive Chairman.