IMOLITES: THE PROSPECTS AND PERFIDY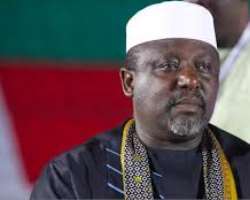 Ned Korie
Sometimes things don't work out very well. Or the way you hoped for. It's true, isn't it? You may drive-off the express to the alternative route in order to escape traffic, only to find yourself in a hitch. Has it happened to you? You may have been to a health class in dare need of a calming, restorative therapeutic experience, and then what you get is a teacher who is distracted and confused. There, all your hopes about what good such session will do for you turns out that you have great disappointment and nothing is accomplished. It's all so disappointing isn't it? Well, that's WHAT has happened to Imolites! We can say that Life is even worse, you finally get what you fought for and gradually you realize that what you hoped that will happen isn't 'gonna' happen after all. We fought with all our might for democracy. We all struggled to establish this government. And we hoped for good governance. We labored for equity, prompt payment of salaries, improved welfare of state workers and pensioners, jobs creation to engage idle youths meaningfully, of good roads and industries, of rural economic upturn. But we have been "punked".
Here we are: our reality is like a man who only woke from a dream wherein his arms carried his wedded beautiful wife entering a mansion of his dream-world. We are 'scammed' anyway- and we are sure now that the present government is a road that leads to nowhere. That is if you try to relate it to Imo people's collective dream for a progressive leadership.
There is something fishy about Imo state in the recent times. The era of political consciousness and constructive opposition seem to have died. No one feels much concerned anymore about how wrong things are going. We seemed to have resolved to take a jelly-livered position of Boxer- that horse in George Orwell's Animal Farm who believed that 'whatever Napoleon says must be right" And that I think should give any right thinking person a concern! We no longer look at things critically.
It is a truism that Imolites have the most read, most graduates and most political conscious citizens according to survey. Our traditional rulers are aware and our citizens enjoy educationally advantaged area on the national map. But why do we relegate ourselves to servitude when we perceive the whiff of money from political money-bags? Our state legislatures have chosen a part of cowardice to retain their position by pawning their conscience to the executive only to make our situation more precar1ious? (Well you may not have heard it for the first time).
We are convinced that in attitude, in tactics and approach there is no clear-cut agenda to take the present Imo State further than the "roundabouts" spread across the state capital. And that's where we have been for the past years. Then we seem to be afraid to talk about these anomalies. As if we are in a Yoga class-without knowing what impact to gain from this whole thing- we just "do the pose" watch our future and of our next generation be bonded away deceitfully. It is understandable that the state government has swallowed up all institutions, organs and humans that should speak in defense of democracy- in defense of Imolites. And each person seems petrified by the inclusive grandeur of an "Eze Onye Agwala m". So, the silver lining is far from us.
In becoming adults, we learn to cope with disappointments. Then it takes so much of energy to cope in such circumstance. You have to get sad, depressed, worried, irritated, moody, anxious, grumpy and lethargic or non-responsive sometimes. And so, if we willingly accept life's disappointment, we may find meaning in this whole suffering- a meaning we should willingly accept. As for Imolites, the meaning in this whole suffering is a consciousness that "Ihe a nuru gaba nkuzi abughizi ihe a kwuru".
We may have bled for so long under this government but we have to stop the bleeding by ourselves. We may have to bleed much longer if we don't try, If we shun not the path of cowardice furthermore. We have to decide in our subconscious that we are not in the right track. We may have to accept the failure of this government as our own collective mistake made out of ignorance. We may wish to improve and make better choices given the next opportunity time will surely present to us.
The lesson may also leave us with the understanding that we must not take eloquence for skills. Mare expression of goodwill could sometimes be a trap. An insincere heart of charity can only be a pot of porridge and tricks targeted at our birthright. A type of charity that diminishes humans' dignity and impedes human thoughts for freedom is not different from tyranny. And this is simply what our education sector is suffering. We may be wrong if we judge the book by the cover henceforth; we may not need to accept people by the volume of the words they speak. Empty promises made in these last six years have not repaired our roads. It has not built one industry neither has it created job for our teaming unemployed youths or improved our schools. Words have not made the state economy to circulate from Owerri urban to our rurals communities.
While we hope for that collectively change we long for, we must understand that time is very short. We should not postpone to tomorrow the duty we owe today. We all have been witness to tear. But have relaxed for two long. Yet you hear the murmur at every interaction. We voice our dissatisfaction when we talk in twos. These are indications of fear -of cowardice. Cowardice is not just the fear of war. It is also the fear of being removed; of going back below the poverty line; of losing your friendship; of losing your position; of losing your title. You therefore resolve to, "forever" remain silent while things go awry.
The "rachara-rachara" type of politics has eaten skin deep into us. Yet it has benefitted us nothing than despotic leadership. It's the best time to realign. We must begin to consult our kith and kin to a conscious effort to choose a leader this time based on programmes that are people orientated than family oriented.
Above all, we should not come under the spell of that written in the gate of hell in Dante's Divine Comedy-"abandon your hope, you who enter here". For if we abandon our hope; If we keep aligning sheepishly because it's "Our Party", "our Man", if our eyes keep following the ball as it rolls rather than the rules of the (game) governance; if we stand and pretend that it is not our duty to mobilize ourselves to that right leadership attributes we want, in the end we may only find ourselves under alignments with doom! We may also discover that we have mortgaged our children's future.
Hope can fail. But living with disappointment makes a man. We experience everything in terms of gains and loss, praise and pleasure, happiness and unhappiness- they all make up the terrible twins. But the noble truth is that 'unsatisfactoriness' accompanies every experience in which we put our selfish needs first. We went for our stomach before now. That mentality must change, if we wish to get things right, if we must get the fourty-two political leadership positions in Imo State right. We must teach ourselves not to look at the Porridge pot- rather to study the leadership agenda that focuses on achievable programme. To look at the public service pedigree of any prospective leader, consider their integrity and weigh the content of their characters. Only this can help us make informed decisions. We cannot experience two much pleasure and not feel the pains thereof tomorrow. That is the reality of life!
Disclaimer:

"The views/contents expressed in this article are the sole responsibility of the author(s) and do not necessarily reflect those of The Nigerian Voice. The Nigerian Voice will not be responsible or liable for any inaccurate or incorrect statements contained in this article."
Articles by Chike Duru