Updated -Photos:Tragedy In Anambra: Gunmen Slaughter Worshippers at St Philips Catholic Church Ozubulu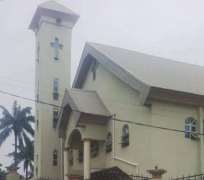 Tragedy struck this morning as worshippers at St Philip's Catholic Chruch, Ozubulu in Ekwusigo Local Govt Area of Anambra State. While worshippers congregated for 7:00 am Mass Service, unknown gunmen stormed the Church at about twenty minutes into the Mass service
They began by switching off the generator set that supplies light to the church. As soon as they achieved that, they began sporadic shooting at the congregation, killing many and injuring many more others.
The rampaging gun men shot at worshippers in the church killing many while many persons sustained various degrees of injuries.
The deceased and Injured victims have been conveyed to Nnamdi Azikiwe University Teaching Hospital in Nnewi. Anambra State Police Command have commenced investigations into the incident.
Confirmed report suggests that the killing was as a result of drug related rivalry between two indigens of the town, High Chief Aloysius Ikegwuonu (a.k.a. Bishop Ebubechukwu-Uzo of Ozubulu) and Obroch another alleged drug baron also resident in South Africa The alleged two drug lords, it was learnt are contesting the soul of illegal drug market and control in South Africa.
It was alleged that Bishop's main boy- an Mbaise born guy was killed after he left Bishop because his rival Obrocho had lured the guy to leave Bishop who had more than 500 other boys working for him.
The Mbaise brothers in South Africa also threatened to deal with Bishop and revenge the gruesome murder of their brother.
There is also one Nonso from Nnobi languishing in jail who claimed (Bishop and Obrocho) Ozubulu brothers set him up and took over a popular park (Territory) in Jo'burg where he did his drug runs.
His group were also being fingered in the murder of about five people since the battle started.
Obrocho, the main rival and also and indigen of Ozubulu who is suspected to have arranged the attack was quotated as saying that he was going to teach the High Chief a lesson because of alleged shortchange in a drug transaction. According to our source, Obrocho is highly irked because his rival,Bishop Ebubechukwu-Uzo of Ozubulu), killed some of his boys while he set up others who are now imprisoned in South Africa. In keeping to his words, he has commissioned assasians to go for his rival. The main target who was supposed to celebrate a "Thanksgiving Service" today was missed by whiskers as he was said to have left the country yesterday evening. Bishop's father was tracked to the Church where violence was extended to innocent worshippers.
It can not be confirmed if Bishop's father was among the victims. It is being rumoured that an orphanage associated with the High Chief has been evacuated because of fear of the dirty war extending to facilities associated with him in the town.
Unconfirmed information coming out of Ozubulu states that St. Philip's Catholic Church, Ozubulu was almost single handedly built by Bishop Ebubechukwu-Uzo of Ozubulu (alleged drug baron). It was further alleged that the Church building was recently dedicated and apparentely, Chief Aloysius Ikegwuonu (a.k.a. Bishop Ebubechukwu-Uzo of Ozubulu), came home to witness the dedication and to celebrate his 36th birthday.
In the spirit of the legendary Robinhood, Chief Aloysius Ikegwuonu (a.k.a. Bishop Ebubechukwu-Uzo of Ozubulu), is said to have extended his fortune to the community by buying cars for every Community Chief and Titled man, welcoming each Rev. father with a brand new car, a gift of Community health Care Centre, an ophernage and numerous other gestures to his community.
Anambra Police command have proritized the investigation inorder to prevent a repeat of such attack on innocent citizens.
Chief Aloysius Ikegwuonu (a.k.a. Bishop Ebubechukwu-Uzo of Ozubulu) Alleged assailants target
High Chief Aloysius Ikegwuonu (a.k.a. Bishop Ebubechukwu-Uzo of Ozubulu) At the dedication of another church he built in Ozubulu and his 35th birthday celebration