BRITISH AIRWAYS CABIN CREW START FRESH FIVE-DAY STRIKE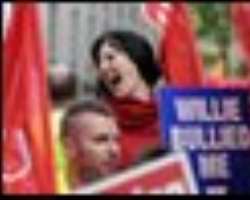 British Airways cabin crew have started a fresh five-day strike as their dispute centred on pay, jobs and conditions continues.
The walkout coincides with half-term holidays, and could be followed by more action starting on 5 June.
BA says it hopes to operate more flights in the coming days than during the previous disruption last week.
The Unite union says it would suspend strike action if BA restored travel perks it took from strikers in March.
Negotiations ended without agreement on Friday, with Unite blaming BA's chief executive Willie Walsh for the deadlock. Conciliation service Acas will be contacting both sides to arrange further talks.
BA says the strike has cost it about £85m – an average of £6m for each of the 15 strike days so far.
Return to work
The dispute is set to dominate Unite's annual conference in Manchester, where about 700 delegates will gather on Monday.
Unite's joint leader Derek Simpson said he was prepared to meet "anytime, anywhere" to continue discussions.
But he told the BBC that Mr Walsh was "prepared to let the strike run without any attempt, casual or otherwise" to resolve it.
BA denied this, saying their chief executive had made it clear he was prepared to go to Manchester to continue negotiations.
Mr Simpson claimed the airline was being "unreasonable" by refusing to reinstate the travel allowances, saying this had caused a loss of confidence among workers.
"We've been doing all we can to build that confidence back but it's very difficult.
"If we could get the confidence back and if we could get the travel allowances back, I believe a deal is doable. I think Willie Walsh believes a deal is do-able but he seems to be intent on regime change [within the stewards branch of the union], wanting to punish the workforce.
"He knows full well our people are not going to go back humilated or punished after the dispute is settled."
BA staff returned to work for one day between the two strike periods, but the airline said that although the "vast majority" of flights were operating it was impossible to run a full service.
Normal working
Unite claimed 102 BA flights were cancelled on Sunday – including 22 long-haul flights.
A BA spokeswoman said it had got off to "a good start" as the second wave of strikes began.
"All flights will operate at Gatwick and London City over the weekend, BA said.
"The knock-on impact at Heathrow is far less than anticipated, due to the numbers of cabin crew who came to work as normal over the past week."
Because most leisure flights fly out of Gatwick rather than Heathrow, the disruption to half term holidays would be limited, it added.
Flight figures
This week at Heathrow, BA said the amount of long-haul flights would be increased from 60% to 70% and short-haul flights from 50% to 55%.
But in national newspaper adverts published on Saturday, BA said it had flown 325,000 passengers last week. It said it flew to 87% of its long-haul and 100% of its short-haul destinations during the walkout.