Delta Police Boss Insist On enthroning Peace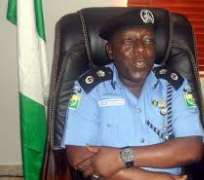 The Commissioner of Police, Delta State Police Command, Mr Zanna Ibrahim, has stated that all his actions and decisions are always informed by genuine and unimpeachable concern for the enthronement and sustenance of peace and tranquility in all parts of the state.
The CP stated this while responding to a press release issued by Ogbe-Ijoh kingdom entitled, "Ogbe-Ijoh Kingdom Frowned at planned Arrest of Ogbe-Ijoh Leaders", published in some daily newspapers in which he was accused of bias in handling the crisis between Ogbe-Ijoh and Aladja communities.
Mr Zanna stated this Wednesday in a press release made available to journalists by the Commands Police Public Relations Officer (PPRO), DSP Andrew Aniamaka in Asaba.
The Commissioner of Police noted that the Delta State Police Command has been at the forefront of brokering peace, including deployment of men to the areas for close to eight months and the clearing of the bush that usually provides cover for the belligerent youths.
While noting that the orchestrated negative and irresponsible media hype are subtle forms of intimidation aimed at distracting the Command from its sole focus at fostering peace in the area, the CP vowed to bring to book every person or group of persons, no matter how highly placed, beating the drums of war and rubbishing every effort made so far towards peace in the two communities.
Meanwhile, the Command said its attention has been drawn to a publication on page 7 of Vanguard Newspaper of July 4, 2017, captioned, "cultists dispossess 5 policemen of phones, cash in Ughelli," authored by Perez Bresibe and wish to state categorically that, the report is totally false, baseless and misleading as no such incident took place.
The Command did not immediately respond to the report because of the need to properly investigate the authenticity of the report, "after a thorough inquiry conducted into the report, it has been discovered that the report was merely a figment of the reporter's imagination and not true in anyway".
The Command disclosed that on the date in question, a police patrol team from 'A' Division Ughelli raided suspected criminal hideouts and arrested two notorious cultists, one Karo Agofure 'm', 22yrs old of No. 82 Market road, Ughelli and Obino Oke 'm', 19yrs who confessed that they are members of Senior and Junior Vikkings confraternity respectively.
The Command wishes to state that it would have been appropriate for the reporter to verify his information before rushing to press.