Don't dissipate energy, Biafra is not possible now, Orji Uzor Kalu tells Igbos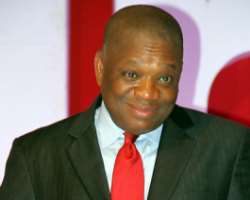 Former governor of Abia State, Dr. Orji Uzor Kalu, has counseled the Igbos to focus on more realisable objective of presidency than dissipate energy on the pursuit of Biafra as a country.
For Kalu,  the agitation for Biafra country by the Igbos cannot be made possible now.
The former Abia governor who recently jumped ship from the peoples Democratic party to All progressives Congress urged the Igbos to rather   up their political ante and play politics of inclusion which can earn the Igbo the nation's president sooner.
He spoke in Lokoja on Saturday while delivering a lecture at an Igbo gathering for the inauguration of Igbo Support Group for Governor Yahaya Bello of Kogi State, which he titled: "Mainstreaming Igbo in Nigeria Politics".
He said, "We must fix Nigeria to work for all inclusive of all aspiration of all. We (Igbo) have made progress but it is not yet Uhuru for us. This is not the time to pop champagne but a time for conscious reflection on the road we have passed, where we are and where we intend to be in the years ahead.
"As Igbos, we must stop listening to people who says Biafra is possible. If we want Biafra we must first ensure that referendum is included in the constitutional review. Nigeria should be thinking of annexing other Africa country rather than dividing it. China is 2 billion and not talking about secession. But Nigeria with less than 200 million populace is talking secession."
He also spoke on  the recent quit notice giving to Igbo by the Arewa youth.
His words,  "Recently, we have witnessed a rise in ethnic activism. A lot of people have expressed fears that Nigeria may be coming to an end. Well in politics, you have to entertain all manner of fears while working on possibilities. However, because of that fears, we have seen a 'quit notice' order from some northern youth groups. I will focus on the possibilities. And the first is that a United Nigeria is an easier possibility than a balkanized country. I see a more united country rising from the ashes of hate and fear.
"However, the issues raised have causes some to wonder if the Igbo have leaders. Of course, Igbo's leaders are talking and dialoguing. In politics, you often dialogue more than you talk. So in managing a diverse country like Nigeria, you need to dialogue and communicate rightly. That way you will be able to manage tension. In this regard, I want to specially thank the leadership of Ohaneze Ndigbo led by Chief John Nnia Nwodo for the matured way they handle the quit notice.
"People are naturally attached to their religion, customs, and tradition. People take offence at the abuse of their religion, customs and tradition. This is because any such abuse is considered an affront. I am not sure of any Igbo man who will like a non-Igbo resident in his village transgressing the custom of his people. If you will not like that, don't do it to another person. That is the golden rule. If you do just that, the source of friction and trouble will be defeated.
"I believe the Igbo are in a better position to understand that all politics, like they say, is local. It therefore suggest that the Igbo must see the need to align properly and seek strategic partnership of other interest groups and political blocs to achieve whatever developmental ideas that they have; such as the shoot for the presidency. In politics, you market yourself and make yourself a strategic ally.
"It is when you achieve this that you put your cards on the table. If the Igbo work themselves into a very strategic political partner, while not putting their eggs into one basket, we can then put the cards on the table before our partners to determine what we get for and what they get from us. We cannot however do that when we remain antagonistic to one another. We cannot achieve it when we scare everyone away with hate. We cannot achieve it if we think its Igbo and Igbo alone. We must build necessary networks. We must build alliances across political divide. This are very important so that our own stories can be told and heard too. If we don't build such alliances, we may not be able to market our demands."
Kalu, who prides himself as a political general, does not suffer any political attacks lightly.  And he had some words for   Governor Ayodele Fayose of Ekiti state over his comment against him in a recent interview.
Fayose had told the Interview magazine that Kalu was misleading the Igbo to embrace the All Progressive Congress, and also on his (Fayose) comments on President Muhammed Buhari.
  Kalu, who took the advantage of the Lokoja forum to reply  Fayose,  said, "I call on my friend, Governor Ayodele Fayose to focus his criticism of President Muhammed Buhari on his performance rather than his health or family issues. When I was a governor I was at logger head with former president Olusegun Obasanjo but it was purely on government activities. I never went personal. Fayose should take a cue too.
"His (Fayose) recent interview in the Interview Magazine where he said I was deceiving the Igbo's into joining APC is uncalled for. I'm taking the Igbo to the central stage of politics and decision taking. I was a founder of PDP, if PDP were to be a company, I would own 90 percent. PDP Balkanized Nigeria. PDP cannot come back to power. So I advised Fayose to stop hate speeches. It is distractive, bad, not brotherly and against the spirit of brotherhood. We must not allow our country just like the Rwanda genocide to thread the path of hate speeches."
According to him, Igbos should realise that can no longer be ignored in the politics of Nigeria, just that the Igbo has not seen themselves so.
 "Igbo can no longer be ignored or shove aside. If Igbo stop paying taxes in Lagos, the IGR of Lagos will drop by 60 percent, because 70 percent of manufacturing and commercial activities in Lagos is owned or controlled by Igbo. Igbo must find a new political discourse, show interest in how in the past their areas were developed on personal contributions without federal or state interest."