Nepal company partners Osun on scientific agriculture
Promises job for over 100 youth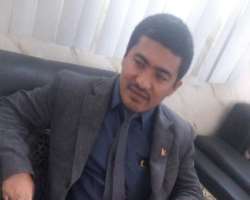 The chairman and managing director of Nepal khadya Bank Limited, Mr. Ram Raja Shrestha has revealed the company's plan to partner with Osun State on scientific agriculture.
The company which has been given 1000 hectares of land in the state, is planning to launch Agropreneur and commercial farming.
Mr. Shrestha made this known during a programme organised by a non- governmental organization, World Institute for Peace, WIP, in collaboration with the State Government overr the weekend.
WIP is an NGO striving towards a better Nigeria and especially a better State of Osun. The NGO brings in investors from around the world to empower the youth and get them gainfully employed.
Shrestha said the acquired land would be used in planting cassava and maize and over 100 youth would be employed.
He explained that the programme is geared towards getting Nigerian youth empowered and getting employed through agriculture and also to develop Nigeria daily livelihood.
According to him, " There are lots of opportunities in this vital land, we want to engage the people in agriculture. We are ready to give the money and we are trying to introduce the people to some things. For in stance, people grow cassava in Nigeria but they don't know what to make from it, from cassava, you can extract ethanol and others. Same thing with ginger, from it, you can make paste, honey candy, ginger powder, even tooth paste. You can get about 10 to 12 products from ginger.
"There is about 1000 hectares of land the government wants to give us. From there, we want to launch contract farming, we want to make commercial farmers, we want to launch Agropreneur in Nigeria. We also want to build an hotel in our own tradition, a cottage-like-hotel.
"People should know agriculture is like other businesses. We want to launch commercial farming and you don't need to sort for the market place because in Nigeria, I think there are over 200 million people, if you sort for the 1 percent market, you already have more than enough market, you don't need to sort for America or Europe.
"There are opportunities in Nigeria but there is no proper guidance. So many people are not getting the right food in the country, we will educate the people, we will feed them with proper food. When people are fed, there will be peace and the peace will spread through the country.
"With 1000 hectares, I can promise not less than 100 people getting jobs and that is just the Pre-production stage, if we go to the post-production, it will be more than that. What is lacking in Nigeria is the scientific method to use in farming.
"There are many lands out there but Nigerian people don't have that sort of idea and proper guidance. We are going for scientific agriculture.
"After this program, I am sure Nigerian youth will get empowered and will get changed by agriculture especially in terms of getting employment. We are here in Nigeria because we are looking for partners in the mission, we are here to develop your daily livelihood because if your stomach has peace, the entire nation will get peace. We are here to change the daily livelihood with technology.
Another guest speaker at the event, former Minister for Youth and Sports and serving member of parliament in Ghana, Hon. Dr. Rashid Pelpuo lauded Com. Lamina Kamiludeen who is the organizer of the programme, over such an initiative.
He said the initiative is one that will influence the development of the State positively and thereby urged youth to get involved in it.
He noted that Nigeria is a blessed country and it's citizens shouldn't be poor or lacking.
His words, " Nigeria is a very blessed country, the land is very vital, the people shouldn't be poor. You can pick any aspect of agriculture even as planting flowers and vegetables and make it big.
"Young people should abstain from fraud, cyber crimes which is generally associated with Nigerians, these are things we should avoid because life is much more than that, life is a challenge, a challenge you use your intellect, your ability, your skill to overcome. Get something out of your environment. Again, Nigerian youth must know that there is no free land anywhere, Nigeria is the place to be." He stressed.