Rochas Okorocha and the many Misfortunes of a Glorious State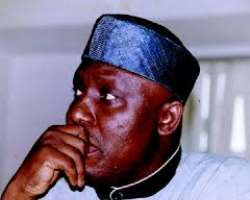 How Rochas Okorocha came to become governor of a highly sophisticated state like Imo State still baffles a lot of good-spirited Nigerians. More discomforting is how he was allowed to allegedly rig his way through for a second term. It is even more troubling that the rascally governor has held on to power for this long without strong challenges to his excesses that have made him think himself an Emperor and act like Pilate who arrogated himself the power to condemn and to set free.
If such had happened in less endowed states or less politically conscious states, it would not have been a problem, but it becomes an issue when the state involved is Imo State, the same Imo State we all know to be one of the oldest and most politically conscious in Nigeria!
Part of why the long-winded governor has been able to hold on so long, we hear, is the practice of what is now commonly known as "Talk and Disappear" syndrome reigning in the state wherein those who dare to oppose the governor disappear mysteriously shortly after criticizing him and are never seen or are recovered dead. It is said that a majority of the people are living in fear, afraid of unpleasant circumstances that might be visited on them by the wicked administration of the governor.
This is bad for a man who carries about mimicking laboriously great men like Martin Luther King Jr in his futile attempt to confuse Imo people that another humanist has come to their rescue. However events of the last six years have exposed Okorocha for who he truly is.
It is said that an empty vessel makes the most noise. Rochas is the best description of this saying. He spends tax payers' money on appearing on live television every now and then pontificating to the Imo people on non-developmental matters and even matters that do not concern them in any way. While he fritters the state's funds on such frivolities just to massage his ego, he leaves the workers and pensioners unpaid for months despite having collected allocations in six years far more than what the State collected in all of its first twelve years of our current democratic dispensation. He even slashed the pensions of the old by a whopping 60% and has refused to reverse it despite a court order to do so, yet, he would not cut down on the self-bloating expenditures on himself and his government. Hypocrisy of Pharisaic Order!
Upon this, he always has the temerity to talk down on the people at every given opportunity churning out one lie after the other claiming he has spoilt the people with projects. Checks on ground have revealed that such claims by Rochas are not true. How on earth would Rochas claim that he has affected the lives of Imo people far more than the previous administrations in the state have done when put together. I just wish Dee Sam Mbakwe did not hear that, if he did, then Rochas' case might be the worst for it. The living may endure calumny and deceit, but the dead do not joke with their deserved respect when thrown in the wind the way the governor is doing.
Just like the Imo Air that disappeared straight into thin air only few days after it was commissioned amidst fanfare, Rochas is reputed to finish shabbily executed projects before engaging his brain. For example, he is reported to have built a pedestrian bridge for students of Imo State University, only for him to turn around to demolish same in the name of road expansion.
The reason why a roundabout junction is reconstructed at an average of 2 times per quarter is still a subject of bewilderment to Ndi Imo. This same roundabout is so massive that it has reduced the space left for motorists and pedestrians to use to the extent that it has become a motorists' morgue as people keep dying there as a result of the defects in the design of the road. All appeals to have Rochas correct the defects in order to save lives have fallen on deaf ears. Many now believe the reason the governor would not have it redesigned and reconstructed is that it is an avenue for the collection of blood of the innocent to satisfy some deities the governor is said to pay obeisance to.
This is the reason it is said that the man actually acts before engaging his brain.
Can a people's situation be worse than this?
There are roads whose constructions are kicked off with pomp and circumstance, media razzmatazz and much gibberish only for such roads to be stopped at distances not up to one kilometer from its beginning, not continuing to where they are needed most.
It is under Rochas that IMSU lost accreditation of its Law Faculty until a few days ago. It is under Rochas that IMSU lost accreditation of its medical schools till today. It is under Rocahs that the once feared Heartland of Owerri suffered the ignominy of relegation from the Nigerian Professional League. Okorocha why?
Are Imo people asking why Rockview Hotels (former Modotel) has now been marked for demolition by the governor? Are people still asking questions about the N1.6bn JBros controversy for which he allegedly kicked out his former deputy, Jude Agbaso? Or have Ndi Imo allowed all these monumental scandals to just pass?
No other governor in the history of Nigeria has ever been as cryonic as the Imo State governor. With the appointment of his family members including in-laws into several sensitive government positions, Rochas' intentions for the people of Imo State is very clear: run the state like a monarchy where all family members assume the powers of the Emperor before whom all other citizens must quake, and the money of the State cornered into the newly created dynasty.
Imo people must continue to ask questions of Rochas. He is not God. He is accountable to both God and those who elected him. He is not unquestionable!
Why did the Rochas Foundation adverts suddenly start running on CNN only shortly after the State has been paid its own share of the Paris Club Refund? Is someone asking the same question, or thinking what I am thinking?
The money spent on such needless and expensive adverts on CNN could have been converted to help Imo pensioners who have been badly dehumanized by Okorocha's anti-aged policies even if Rochas Foundation is a private entity. After all, the Foundation is said to be a charity organization that seeks to help the poor and the needy. What other poor and needy is Rochas looking for on CNN that he does not have in Imo State already? Is somebody thinking what I am thinking?
A man who continues to defend the evil that the APC-led federal government is, has never condemned the incessant attacks and official murders of Igbo sons and daughters by state actors but pay for expensive time belts on television to talk down on his people and blame them for the many misfortunes they suffer in the hands of their traducers does not deserve to stay a day longer as governor of Imo State.
Of all misfortunes that have befallen not only the good people of Imo State but also Ndigbo generally, Okorocha is the worst. The gladness in the camp of men of goodwill and progress everywhere is that 2019 is just around the corner. One cannot wait for Ndi Imo to roll out their drums and sing that popular song with which the demons are exorcised, "Satan, pack and go", for Rochas and his cronies when that time comes!
[email protected] ; Twitter: @stjudendukwe
Disclaimer:

"The views/contents expressed in this article are the sole responsibility of the author(s) and do not necessarily reflect those of The Nigerian Voice. The Nigerian Voice will not be responsible or liable for any inaccurate or incorrect statements contained in this article."
Articles by Jude Ndukwe