FRANK RAJAH ARASE REACTS TO RAPE ALLEGATION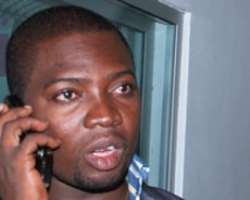 The story of Frank Rajah Arase we served you a while ago has been generating a lot of controversies in Nigeria and Ghana where the Nigerian born popular movie Director, Frank Raja Arase lives. In one of the radio stations in Ghana, the prolific movie director has dared anybody who wants to arrest him or question him about anything to come for him in Ghana. Frank, who is currently on set directing a new movie with Abdul Sallam Mumuni of Venus Films Production in Accra, poured his heart out to peacefmonline.com about his alleged raping and sexually assaulting an under-aged Nigerian housemaid named Chinemelu, whiles shooting a movie in Asaba, Delta state.
He denied the allegation, saying it was the work of his competitors, in Nigeria to dent his image. "This is Frank Raja Arase; do I look like am a wanted man? If you want me, you can find me anywhere. Come to Ghana now and ask for Venus Film and you will find me. So if I am wanted I am here, they should come and pick me up," he stressed.
He admitted going to shoot a movie in Asaba, Delta state some weeks ago as www.nollywoodgists.com reported, after which he stayed with his family in Lagos for thirteen days, and then came back to Ghana. Frank told peacefmonline that he was not surprised when he heard the story exclusively written on our website because he had too many visitors when he was on set in Nigeria and he saw that any of them could say anything about him.
"I knew something was going to happen because I was too cautious with myself. I was treated like there was some God in town. The attention from different Nigerian marketers, producers, Actors and Actresses on me was too much and I knew that those who probably see themselves on my level or probably believe they are better than I am, I knew it was not going to be easy for them". He disclosed.

He said the story on Nigeriafilm.com is a fabricated story because nothing of that sort happened. "There is no iota of truth in what is on the internet".
According to the story, it was Frank's girlfriend Esther Awudu who caught Frank in the act and blew the story up. But Frank said Esther is not his girlfriend, even though he admitted knowing her. He said he is proudly married to a sweet lady who understands his work.
Asked how the rape allegation against him has affected him, Frank who was with his wife Victoria Raja Asase at the time peacefmonline spoke to him, said it has not affected him in any way.
"My wife is here with me now and we are having fun. She knows me as her husband, she knows what I can do and what I can't; to her she doesn't care, all she is interested in, is for me to be focused," the renowned movie director said.
Frank Raja further told peacefmonline that he was on set in Nigeria with Mecy Johnson, John Dumelo and Immortal Films Production, so anybody who wants to know what went on set, should feel free and call any of them, and ask if anything of the sort happened.
Frank Raja directs most of his movies in Ghana and lives in Lagos with his family. He is known in Ghana for directing movies mostly produced by Abdul Sallam Mumuni of Venus Films. He has directed movies like: Heart of Men", "Who Loves Me", "Chelsea", "The Prince's Bride" and the yet to be released "4Play"