Comedian, Gbenga Adeyinka's Daughter Graduates with First Class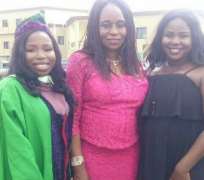 Comedian, Gbenga Adeyinka, is one proud father that will always look at his daughter, Adeola Adeyinka, and mile that he has done well.
The comedian is currently proud that his daughter is now a graduate with First Class honours and no more stress of paying high school fees for the main time
Adeola is now a graduate of Human Resource Management and Industrial Relations from Covenant University in Ota, Ogun State.
Sharing the good news, he wrote, "Congratulations on your graduation with FIRST CLASS HONOURS. I am extremely proud of you darling. You have made me proud again. God continue to bless you for me my Adeola. Sorry I couldn't make it. Will make it up to you dearie."