Troops move 43 surrendered Boko Haram terrorists to de-radicalisation centre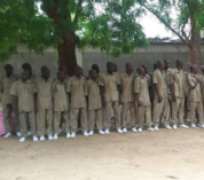 Forty three Boko Haram insurgents who recently surrendered to troops of Operation Lafiya Dole, were on Saturday, air lifted to join other surrendered insurgents in Gombe where they are to immediately commence de-radicalization and rehabilitation programme.
 The programme, according to a statement by Colonel Onyema Nwachukwu, Deputy Director, Public Relations Theatre Command, Maiduguri, is under the auspices of Operation Safe Corridor.
The statement said the Theatre Commander Operation Lafiya Dole, Major General Ibrahim Attahiru, speaking while handing over the surrendered insurgents to Operation Safe Corridor, gave assurance that the penitent insurgents will be given a new lease of life as they commence their journey back into the civil society through the de-radicalization and rehabilitation processes.
"He urged them further to embrace and undertake the programme whole heartedly to enable them benefit and positively reorient their views about life and the society in general, "the statement said.
General Attahiru called on all other insurgents to abandon the futile struggle and reject the hypocrisy of the Boko Haram leadership who live in affluence, while their foot soldiers die in hunger.
It will be recalled that over 70 Boko Haram insurgents had earlier in this month, surrendered to troops of Operation Lafiya Dole in the North East, thus, taking advantage of the window of grace provided by the Federal Government for insurgents who are willing to give up terrorism and turn a new leaf to surrender to any military location closest to them. (Vanguard)