Alleged corruption: I'm ready to tell all I know to Nigerians and go to jail if need be – Diezanni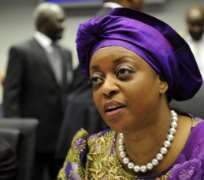 Former Petroleum Minister, Diezani Alison-Madueke threatened to squeal on her associates, Kola Aluko and Jide Omokore, according to a recorded conversation recovered by investigators probing the much-million dollar illicit dealing by the trio.
The former minister is being investigated for a series of multi-billion dollar fraud and money laundering offences in Nigeria, the United Kingdom and America has said in the taped conversation deposed before a court in Lagos that had threatened that after opening up on everything that transpired in the controversial fraudulent transactions, she would be ready to be thrown in jail along with her co-conspirators.
Mrs. Alison-Madueke's explosive comment is contained in a recorded conversation recovered by investigators probing the corruption allegations against the former minister.
Details of the conversations, according to online portal, Premium Times, have now been filed as part of a civil complaint by the United States Department of Justice (DoJ) seeking the forfeiture of over $144 million slush fund. The trio of Mrs Alison-Madueke, Mr. Aluko and Mr. Omokore were listed as persons of interest in the civil complaint filed at the US District Court, Houston, Texas.
The complaint revealed how the three individuals laundered millions of dollars on behalf of Mrs Alison-Madueke, which was used in buying property in the US and the UK for her family in return for oil contracts to Atlantic Energy Drilling Concepts Nigeria Ltd, AEDC, and Atlantic Energy brass Development Ltd, AEBD, two Shell companies owned by Mr Omokore. In the conversation with Mr Aluko recorded by herself on May 14, 2014, a clearly angry Mrs Alison-Madueke admitted to helping her associates secure the multi-billion dollars Strategic Alliance Agreements, SAAs, deals.
In another conversation with another unknown recipient, the former minister dared Aluko to reveal details of their dealings, and then face the consequences. She was, however, furious at how the ostentatious acquisitions of Messrs Aluko and Omokore might have led law enforcement agencies across the world to their shady dealings.
In the recorded conversation, Mrs Alison-Madueke, in response to speculations that Mr Aluko was going to blackmail her, threatened to spill the beans. She said she was ready to reveal to Nigerians all that happened and was ready to follow Messrs Aluko and Omokore to jail.
She said, "I will tell him (Aluko) to bring everything out, and then you know what will happen? No problem, I will be happy to escort all of you to jail along with myself. I said, in fact, you'll be shocked by what I will do. Because when it comes to that, I will come out and tell the Nigerian people this is what happened. "Anything they want to say, I am happy to go. But I will come out openly and say it so that they can judge me openly. And then all of us go and sit on the gate. Let us see who survives, me or you."
It is believed in Nigeria, that the former minister fleeced the country of several millions of dollar while she supritended that over the country's petroleum ministry. Former Central Bank of Nigerian governor, Sanusi lamido Sanusi, who is now the Emir of Kano, had alleged during the dying days of Jonathan presidency that several billions of dollar of Nigerian oil money was diverted instead of being paid into the Federation account.