JONATHAN BETRAYED YAR'ADUA – SENATOR KANTI BELLO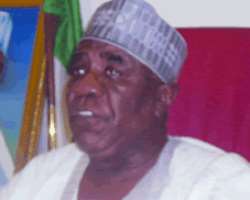 Senator Kanti Bello
The worst part of it is that the first beneficiary of that arrangement, Obasanjo, said it is not so when actually there is a written minute of the meeting and all the people in attendance. I call that immorality and I don't like immoral leaders. What we are talking about is morality.
Senator Mahmud Kanti Bello is the Chief Whip of the Senate. The senator representing Katsina North on the platform of the PDP is not a man known for suffering fools gladly. The 55-year-old four-time senator was at his best during an interview with Sunday Sun. He vowed to mount the rostrum against the candidacy of President Goodluck Jonathan. He insisted that some southerners with the tacit support of Jonathan are turning the 2011 presidential election into an ethnic issue. Excerpts:
How will you rate the present Senate of the Federal Republic of Nigeria?
We are not doing badly and at the risk of sounding immodest; we have done a marvelous job by serving as the stabilizing force in the Nigerian politics.
What do you mean by stabilizing force?
You will remember that when everything became tense over late President Yar'Adua with no letter coming from him asking Jonathan to act in line with constitutional provisions, we at the leadership of the senate agreed and came up with the doctrine of necessity and we gave Jonathan the power to act. That doused a lot of tension in the land. Perhaps if we didn't do that at the time we did, because everything has its own time, only God knows what could have happened. Without that letter, the country was clearly without a leader.
We came up with that doctrine of necessity and the tension went down and everything normalized. The country would have stayed without a leader if we had not done it. We were also mindful of undemocratic people all around. I remember that one of my friends a one-time senator, Arthur Nzeribe, said it was better for the military to come and take over. If the senate had not done what we did, this democracy might be over by now.
But that doctrine of necessity also drew some flaks as it was said to be unconstitutional and the argument only ended when Yar'Adua died.
It was controversial but it was the only solution at that moment. What people were advocating at that time was even more controversial. Some people said that that Jonathan should continue as Vice President while acting as President. That would have been illegal because a court of competent jurisdiction had ruled that he should be sworn in as Acting President. The alternative was to allow him be the Acting President. The law says that the President, if he is going on leave, should transmit to the President of the Senate and the Speaker a letter and from that time the Vice President becomes the Acting President. Yes, he did not transmit a letter but he spoke on the BBC and we found out that the meaning of transmission is to inform and it does not matter the way you transmit the information.
We know some people will argue that we were wrong but we held our ground that the letter was transmitted electronically through the channel of the BBC. If you looked at the BBC website, you would have heard the late President say that he was sick and was getting well and he would come back when he was well. We used that under the doctrine of necessity. People might say we were wrong but in the overall interest of Nigeria and our democracy we did what we thought was better.
What if someone had gone to court to say that doctrine is illegal?
Can a country be without a president? What do you think would have followed that? What we did was the best and that was why I said the Senate acted as the stabilizing force, which I think is good for us as a nation. If we had not done what we did, we might not be talking like this today.
Now you have President Jonathan, are you okay with him at the elm of our affairs?
It is not a matter of me being okay, it is a matter of what the constitution says. The 1999 constitution, which we are using, says that if the President dies, his deputy automatically takes over. That is what happened. The issue of whether he is competent or capable is immaterial because what the constitution says is he must take over and he has.
Is he showing any sign of moving the nation forward?
In my own opinion, I won't give him a pass mark on that. Seriously I think he should pay more attention to some very salient issues that are germaine to the economic growth and development of the country. He should think of generating more electricity. He should think of the problem of the shortage of gas and the issue of sabotage in the Niger Delta.
Whatever you think of Yar'Adua, we must give one thing to him. He made spirited efforts to solve the problem in the Niger Delta. He might not have succeeded but he attempted to take the people of that area away from the path of militancy. He created the Ministry of Niger Delta to take care of the development of that region. That is a positive step. But when a man becomes President and one of the first things he did was to prosecute the chairman of his party for a crime he allegedly committed in 2001, some questions readily comes to mind. Why was the man (Vincent Ogbulafor) allowed to run for the post of the party chairman in the first instance if they have such a case against him? Some smart guy suddenly exhumed that case.
We are not fools, you know. I think we should be honest in this country about our real intentions. There are insinuations that Ogbulafor is suffering because he said the Presidency has been zoned to the north for 2011. Well, what he said is the truth. It is a statement of fact. It has been zoned to the North. If that was the reason he is being persecuted, is it right? I cannot say that was it categorically, but the insinuation is very strong that that was his offence. I wonder why the ICPC decided to prosecute him now after leaving him to walk about freely for nine years. I think the ICPC should be asked why they are just taking that man to court in 2010 for an offence allegedly committed in 2001.
If this country is going to be built on deceit, then we are in trouble. I think we should build the country on fact and the fear of God. I am not saying a corrupt person should be allowed to go scot-free, but I quarrel with the idea of subtle blackmail; that when you want something you unearth some dirt about a potential obstacle.
Look at what is happening over the Halliburton issue, all these years, the anti corruption agents did not work. Why are they now full of energy? People are bound to insinuate and I am not saying I have facts but I am a practical person. If you go to the grassroots, this is what the people are saying. I am in PDP and I am supposed to defend Mr President and his policies but I cannot defend why these things are coming just now.
The administration believes in the rule of law….
Good, but even in the rule of law, it is said that justice delayed is justice denied. If I go and slap you and you keep quiet until I am a party flag bearer and then you come forward, I can readily accuse you of being unfair. I can only say that you are a good blackmailer.
Yar'Adua was in the saddle then not Jonathan….
Listen. I will go back to history. I was in company of the late Yar'Adua on a trip we once made to Yenagoa. We landed in a school in Yenagoa and we visited the then governor of Bayelsa state and they held discussions. We finished and we took the helicopter back to Port Harcourt. Yar'Adua after the convention later decided to settle for Jonathan in preference for somebody that was initially penciled down for it.
I was very close to the late Yar'Adua and as far as I know for the two and half years that Yar'Adua was in the saddle, he never complained to me that he has any misunderstanding with Jonathan or that Jonathan disagreed with him on any matter even in principle. I am a personal friend of the late President Yar'Adua.
You can call me a member of a cabal if you so desire, I will agree because I am his friend and colleague but I never gave him a wrong advice. The truth is he had never complained of Jonathan. They were always in agreement on all issues in the administration. Now, Jonathan is in the saddle, what has changed that he is against everything that has
Yar'Adua on it? Is it because the man died?
He is now in charge.
But he was the deputy of the man before and they made all the decisions together. In the Senate today, if there is anything I feel bad about I will go and meet Senator David Mark and complain.
Are you sure Jonathan never complained?
If did and he did not do anything and decided to wait until the man died, it shows something about him.
He is in the system and might not have been able to do anything as a Vice President…
In this country we need to be honest and sincere. We should stop playing politics. If we don't, this country will never move forward. If I were Jonathan, I will draw a line where appropriate and face the reality on ground. Nobody is interested in who stole N104 million nine years ago. Nigerians are interested in electricity and security. He came in with goodwill but he is listening to some old hawks.
People who ran away from this country are now being promoted. Take el-Rufai for instance, he is my younger brother and he respects me but I don't like what he has been doing. We in the Senate claimed he did something but he did not have the courage to come and explain to us and then the EFCC said he did something, he then ran away. Now, he is returning and the media is making him a hero. How can we move forward like that?
Are you also unhappy that Ribadu's rank has been restored?
That is another problem with the Police Service Commission. If I have my way I will sack all the people in that commission. Why did they demote Ribadu in the first instance if they don't have their facts? They have now lost credibility because the implication of what they did is that they lied against Ribadu then. How can we grow if we continue to do things like that? Today you said Ribadu was wrongfully promoted and he was demoted and then you shamefully restored his rank. What are the reasons for the restoration? They should be probed and dealt with.
Where do you think all this is leading?
There has been insinuations, because since Goodluck came in he has been reversing everything that has the print of Yar'Adua on it and some of us are now feeling that perhaps he hates everything Yar'Adua. Some of us won't accept that. What we believe in is that there should be no north, no south, no east, no west but service to the nation.
Then why are we talking of zoning? Don't you believe in zoning?
I never believed in zoning, but I believe in morality. If we are running this country without morality then we are finished. You sit down with your friends and agree that Mr. X should rule for eight years and then you will have it; then Mr. X did his own and when it is your turn, you have a misfortune and you now turn round that you don't believe in that initial agreement.
The worst part of it is that the first beneficiary of that arrangement, Obasanjo, said it is not so when actually there is a written minute of the meeting and all the people in attendance. I call that immorality and I don't like immoral leaders. What we are talking about is morality.
If Jonathan works hard by giving us power and stabilizes our economy, we will on our own ask him to continue even without any prodding. But we are not fools and we need one another.
The office of the President is just one in the whole country, yes, it might be powerful, but so what? The President should be nationalistic and a complete gentleman and not one that won't honor agreement.
Are you aware that some people are saying that zoning should be done away with?
It should be done away with after 2015
What about now?
It will be selfishness pure and simple and it is ungentlemanly and dishonorable. That is my stand on that.
Will you support Jonathan if he decides to run on the ticket of your party in 2011?
I will not.
Why won't you support him?
Why should I support somebody that is not honorable?
As a party man, will you work against your party?
I work on principles and if you are not honorable, I won't support you. Honor is the most important thing in life. If Jonathan can come and discard an agreement which he himself was part of as the deputy governor of Bayelsa state and can now say it is rubbish, how sure are you that he is the one that will move this country forward? It does not matter how small it is, honor is honor. If it is in Europe or America and not Nigeria where we have so many sycophants in the media and everywhere, do you think this will happen? Leadership is all about honor. There is nothing wrong in finishing Yar'Adua's tenure and then come in 2015.
I will feel cheated if he is coming forward in 2011 what type of foundation are we laying for our children? A foundation laid on deceit? When it suits you it is right and if it does not suit you it is not right. Is that the type of legacy that we want to leave for our children?
Will you campaign against Jonathan if he should decide to contest?
I will. I will, so what? I don't care. Fortunately for me I am a very contented man and they can't see my name anywhere. I am not an ex-minister and they can't get me anywhere.
Will that not be anti-party activity?
They can sack me if they like. I will. If he wins the primary, it might be another thing, but at the primary, my vote won't go to him. I believe leadership is about honor.
If he emerges the candidate of the PDP, will you support him?
It is up to the circumstances. By the way, tell me one reason why Jonathan should run. He is part of the agreement and I can produce the minute of the meeting. I want to believe he is a very honorable man and you the press is trying to make him a dishonorable man. Tell me why he should run.
Why not? In 2003 some northerners too ran against Obasanjo.
That is rubbish. In 2003, the party was very clear on zoning. The party said that it was for the south and if (late) Abubakar Rimi had won, the party would not have given him the ticket. In democracy, political parties are built on mutual understanding and respect, not dictatorship.
Rochas Okorocha too contested against Yar'Adua in 2007.
Did he win? He did not win and if he had won they would not have got it. Why are we trying to be smart? Do people think we are fools? Who wants to run against an incumbent President? In a place where the party chairman has been sacked and the deputy is in trouble and you are saying my position as the Chief Whip could come under threat? They can come and take the position of the Chief Whip. I don't care. My people did not elect me to be chief whip; they elected me to defend the interest of Nigerians. We should be honorable in this country.
Is your position under threat already?
It is you that is threatening me by saying why should I be against Jonathan (general laughter).
Your name was mentioned as one of those to be Vice President to Jonathan; would you have said what you said now if you were picked as the vice President?
I will. Luckily enough I did not lobby for it and they did not give me. I don't lobby for anything even when my brother Yar'Adua was on the seat, I did not ask him to be a minister. I am a chartered engineer with over 37 years of experience. I could have asked to be made minister of works or that of petroleum, but I didn't. How my name got to Jonathan as his Vice President I don't know, but if he had picked me, I would had advised him first of all that we need to be very honorable in everything we do.
There is a difference between trying to do something and people asking you to do something. If I were his vice president I would have advised that he forget about sacking this one or that one. He should concentrate on power, let there be light all over. Even if it is emergency power plants that he worked on which can be deployed to the industrial estates across the country. That is what I thought a pro-active president would be doing. Do you think if he decides to do that anyone will talk of zoning it to the north? But when you put yourself in a cocoon and all you are doing is plotting how to be President, then there is reason to be worried.
Do you think there is morality in politics?
There is morality in politics and those people are not moral and that is why people will not trust them. As I talk now I know I am speaking the minds of between 70 to 80 percent of the people of the north. They know I don't lie and I say my mind.
Are you regretting that you assisted him to be Acting President?
I have no regrets over that. I did it for the general interest of the country.
Why are you not supporting his ambition then?
Because it is a wrong ambition and it is immoral. If you build your house on clay and someone builds his on solid rock, which one will stand? The house built on clay will sink and that one on rock would stand. They are moving away from agreed arrangement and they are maneuvering to do it. It is not the people that say he should do it. It is wrong. When you keep maneuvering and even threatening people, that is wrong.
Did you ever envisage Jonathan would do any of these things?
I saw somebody before and like I said earlier I did not hear a single complain from Yar'Adua about him throughout the two and a half years that Yar'Adua was in charge and I know they worked in harmony but now it appears that to him everything Yar'Adua is bad. I feel bad about that.
Have you approached him?
I hope to get the opportunity to and I promise to let him know my feelings. You know I cannot just walk into his office like that. I will tell him to his face.
Have you made effort to see him?
Not personally but as a member of the leadership of the senate, we met him and we gave him our backing. I have nothing against him really but I am against the immoral thing they are pushing him to be involved in.
We are ready to help him to succeed but some professional lobbyists are going round to chart an ignoble course for him.
What type of person will you say Jonathan is?
I'm still studying him. If he comes out to say he will run, I will know where to put him. If he follows the path of honor, I know where to put him.
Do you have any fear for your party ahead of the 2011 election?
It depends, PDP is a party with so much problems. Internal democracy of the party is one of them but we hope to correct that during the electoral reform thing. But it is unfortunate that we are in a one-party state now and everyone in that one party is not looking at the national interest but personal interest.
The opposition, unfortunately, is nowhere to be seen and Nigerians were forced to work with the PDP. I hope some of the decisions of the PDP won't tear the party apart.
But you were in the opposition before and you joined the PDP and now you are slamming the opposition…
I am a very simple person but a practical realist. I am a practical realist because I do what I see is better for my people and my country. If tomorrow, I see that the PDP, which I belong to now, is not serving the interest of the people of Nigeria again, I will leave. No hard feelings. I was responsible for bringing General Muhammadu Buhari to partisan politics. I went to his house and invited him. I am influential and he knows it.
To the glory of God, I have won the senate seat of my district constituting of 12 local governments four different times on the platform of three opposition parties except this one. I won once with the defunct SDP when the dominant party in the state was NRC, then twice in ANPP when the ruling party in my state is PDP. The keys is getting the confidence of your people and doing what is best for them.
I have nothing personal against Jonathan and I am not being tribalistic either. I am a nationalist.
Were you still serving the interest of your people in the senate after decamping to PDP in 2007?
I am. I am.
You couldn't have served them under ANPP?
I couldn't because I had a misunderstanding with Buhari. Buhari is a good leader and I respect him so much and he is a very honest person, but his sense of justice sometimes is what I am not comfortable with.
I am a politician but I lack something. It is a deficiency on my side. I don't know how to tell lies against anyone or any issue. I say the truth always. It is a minus to me but I can't change. That is how Allah made me. I had a misunderstanding with Buhari;I realised that they are not following the constitution of the party and I told them so. They refused to shift their position, so I left. Then my brother, the late Yar'Adua, who we have been political soul mates for a long time, invited me to PDP and I worked for PDP.
If tomorrow PDP decides that they won't do the right thing and put the interest of the people of Nigeria first, count me out.
Will you be willing to explain some of those things that make you fall out with Buhari?
I don't know how to lie but some people went to tell him some lies against me but I told him the truth. Some people went to deceive him that I am trying to do something which is not the truth. The constitution of the ANPP says that the outgoing Exco should appoint a caretaker who will then conduct an election.
They did and Buhari, the leader of the party in the state by virtue of being the Presidential candidate said you don't agree with the composition of the new Exco. Is that correct? That was the crux of the matter. It was out of principle.
In the same way, I have nothing against Jonathan but I believe that what some people are trying to make him do is wrong and immoral.
Who are the people pushing him?
His own cabal is pushing him to do immoral things. Since cabal means all those close to a president, then he has his own cabal too now.
I will want you to find out the members of the new cabal.
Is Obasanjo one of those in the new cabal?
Maybe he is the founder of the new cabal, I don't know. I will want you journalists to go and find out.
Will you say you approve the manner the family of the late Yar'Adua handled the health of your friend, the late President?
Sometimes you don't like to talk about the dead. But the truth is we are all Nigerians, I don't know why, but the way and manner his health was managed was not fair. It was not fair to Nigerians who voted for him and I can say it is not correct. But as I said, the man is dead.
Someone at the senate said we should find out certain aspects like why he did not go to Germany. Why Saudi Arabia suddenly? Then why didn't they allow anyone to see him in Saudi Arabia? What was wrong with him in Saudi Arabia? And then why bring him back in the night so that no one would see him? These are some of the questions they wanted to ask but some of us said no. Yar'Adua is dead, so all is finished. This is why I am not happy with Jonathan who started investigations all around the country. He should have gone straight into governance.
The painful aspect of the whole thing is that some of those preparing the ground for him to contest are liars. They are not faithful to him, even you members of the press. We in the Press are not saying he should contest we only report what people say…
I am saying on behalf of Nigerians that he should not contest.
Did those of you who were close to the late President know that he might not last the distance of his presidency?
Honestly, we didn't know because for the almost two months that we went around the country, he was never sick. His doctor was always with us and I never suspected that he was a sick man and might not be able to complete his tenure. The only time during the campaign was when he had a cold and he went to the hospital and before you knew it, they'd packaged him to Germany. I said they packaged him because they did not even allow him to change his clothes.