Ukah Frowns At Security Lapses Inside Old Secretariat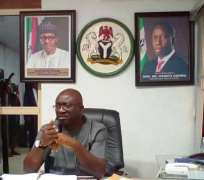 The Delta State Commissioner for Information, Mr. Patrick Ukah, has frowned at the security lapses inside the old secretariat complex in Asaba.
Mr. Ukah bared his mind Sunday on the theft when he visited the section of the Ministry of Information in the premises to inspect the armoured cable which was vandalized by unknown persons.
He expressed surprise that such an evil act was successfully be carried out without anyone seeing the perpetrators, considering that stores and drinking joints are around the location.
The Commissioner for Information, who was conducted round by the Director of Printing Press in the ministry, Mr. Lucky Omokri, however said that it was a thing of joy that the hoodlums were unable to take the cable away.
Mr. Ukah pledged that he and his colleagues would put heads together to see how to beef up security to avoid a recurrence of the ugly incidence.
The Permanent Secretary in the ministry, Mr. Paul Osahor, and Aides of the commissioner accompanied Mr. Ukah for the visit.