"The way Aregbesola treats workers is very pitiable"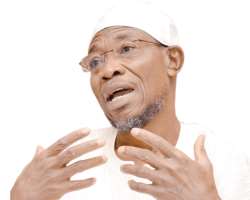 An elder Statesman, Mr Ademola Oyagbile has said that the way Osun State Governor, Ogbeni Rauf Aregbesola treats the workers in the state is very pitiable and sad.
Elder Oyagbile who hails from Odo-Otin Local Government Area in the state, said this during an exclusive interview with our reporter.
He said it is hard to believe Aregbesola would turn out be so callous when he became Governor despite all he promised while he was canvassing for votes.
His words," The way the Government of the day under AbdulRauf Aregbesola is treating workers is very pitiable and sad that I don't even know what other word to use because this was the same man that promised he would be paying workers' salary latest every 26th of every month when he was canvassing for votes. But now that he is there, he started owing salary and later moved on to half salary.
"How can a reasonable Government pay half salary for a full work done? Even Aregbesola himself cannot take that. So when you consider the way he is treating in terms of payment of salary, you will just see that he has been so callous and wicked."
Elder Oyagbile however expressed that he cannot blame Aregbesola but rather the executives of The National Labour Congress (NLC) who have allowed him to treat the people of the State as he liked.
"When you view this thing critically and when you peruse everything clearly, you will see that Aregbesola as a person is not to be blamed, we only need to blame Adekomi and the rest of them in the executive of NLC because they are the people to be held responsible for the way Aregbesola is treating Osun people like rags.
"They have encouraged Aregbesola to treat Osun locals the way he liked that nothing would come out of it."