Aregbesola will complete all jobs-Adelani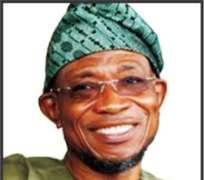 The Osun State Commissioner for Information and Strategies, Mr Baderinwa Adelani has assured that the State Governor, Ogbeni Rauf Aregbesola would complete all the projects he has embarked on before the end of his term.
Adelani said Governor Aregbesola's term is still almost 500 days away and all the projects would be finished before then.
The Information Commissioner said this during an interview in his office at the State Secretariat.
He explained that the all the projects had been well planned and would be completed within the remaining time phrase.
Asked what if Aregbesola did not eventually finish all the projects before his term ends, Adelani said since even the Federal Government does not implement up to 50% of its budget, more should not be expected from the State Government.
Speaking on if there is any hope the workers in the State would be paid their remaining salary, Adelani stressed that the Governor is willing to pay worker's salary and would do so as soon as there is sufficient fund for that.
He however debunked the news that the State Government has been given the Paris Club Fund, saying when that happens, the Federal Government would announce it and the people of the State would know.