Gen. Gusau [rtd] Dumps President Jonathan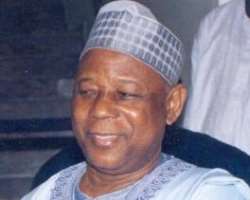 National Security Adviser NSA to the President, Lt. Gen. Aliyu Mohamed Gusau rtd
ureports, 0808 336 8888, May 29 2010 01:21am
New details available to ukpakareports.com indicate that the newly appointed head of the National Security Adviser [NSA] to the President, Lt. Gen. Aliyu Mohamed Gusau [rtd] has bolted following a latent disagreement between him and the President of the country. This information was confirmed to our correspondent by a principal actor within the President's circle of friends.

As gathered, Aliyu Mohammed Gusau who had accepted the position of National Security Adviser to the President on March 8, 2010, accepted the position under the clear understanding that President Goodluck Jonathan would not present himself as a candidate for the presidential race in 2011 under the Peoples Democratic Party [PDP]. A source confirmed that Jonathan gave Gusau verbal assurances that he would not join the race. And Gusau was reported to have expressed his interest to contest for the seat of presidency as the one condition upon which he will accept the position offered. Jonathan was said to give his word.

Following Jonathan's ascension from Acting President to President, and as the need to appoint a vice president arose, Jonathan reached out to Gusau for the position. Gusau, as gathered, turned the offer down citing his interest to vie for presidency in 2011. Jonathan appeared calm and dispassionate to Gusau's response.

However as the tables of events began to turn and the veil of disguise began to fall, the real intentions of involved parties began to bare themselves naked. The President's political aspirations became clear. And as Gen Gusau caught wind of President Jonathan "unannounced" intention to join the contest, he immediately approached him [Jonathan] and sought to hear from him directly.

As ukpakareports.com was authoritatively informed, President Jonathan confirmed to Gusau that he has changed his mind and has thus decided to join the fray to contest for the presidential seat. Gusau, who was shocked, did not take the news well. Reacting, he quickly jetted out to the United States of America [USA] while instructing his aide to immediately draft a letter of resignation. Of which was drafted and submitted to the Presidency last week. Gusau was also reported to have told Jonathan that the Presidential slot for 2011 belongs to the North and not the south.

The Presidency unsure of how to handle the abrupt resignation of Gusau has decided to sit on the resignation letter. A source told our correspondent that the Presidency has opted to 'manage' the resignation so as not to rock the North politically.

It is expected that in the coming days an announcement will be made with regards to the status of Gen. Aliyu Gusau. Already, Gen. Gusau has whipped up support from a sect within the Governor's Forum who may want to join forces against the President.

Stay tuned.

|
Article source